Alan Moore's Feature Film, The Show, Now Filming in Northampton
The Show is the new feature film currently filming in Northampton, written by Alan Moore and directed by Mitch Jenkins, to follow their previous Show Pieces short films.
Starring Tom Burke, Siobhan Hewlett, Christopher Fairbank, Ellie Bamber, Sheila Atim, Richard Dillane and Alan Moore himself.
The Show follows Fletcher Dennis, played by Burke, hired to track down a stolen artefact, an investigation that brings him into contact with Nighthampton.
The Show is directed by Mitch Jenkins from a script by Alan Moore, his first original feature film screenplay to be realised. Jim Mooney & Mike Elliott of EMU Films and Lex Films' Tom Brown are producing. Finance is provided by BFI, awarding funds from The National Lottery, along with Lipsync. Protaganist Pictures will handle worldwide sales.
Outlining his vision for the project, Alan Moore said, "With The Show, I wanted to apply the storytelling ability accumulated during the rest of my varied career to the medium of film. I wanted to see if it was possible to create an immersive and addictive world with no throwaway dialogue and no throwaway characters, a world where every character is memorable, distinctive and attempting to steal the whole show for themselves, just as we do in real life. I wanted to take some very old-school approaches to film and to find out, alongside Mitch Jenkins, what would happen if you connected them up with some very modern ideas and technical capabilities, and I wanted to make a piece of radical and progressive cinema that was also ridiculously sumptuous, involving and entertaining: a genuinely spectacular show."
Director Mitch Jenkins added "Having spent the previous decade collaborating with my dear friend Alan Moore and the last seven years of it working on our film project Show Pieces, to finally find myself directing The Show is a wondrous thing. Being able to take our world and Alan's words to the big screen, is nothing less than magical. Breathing life into these amazing characters that Alan has created, in collaboration with the actors has been one of the highlights of the project to date."
Here's a first look at The Show followed by a synopsis.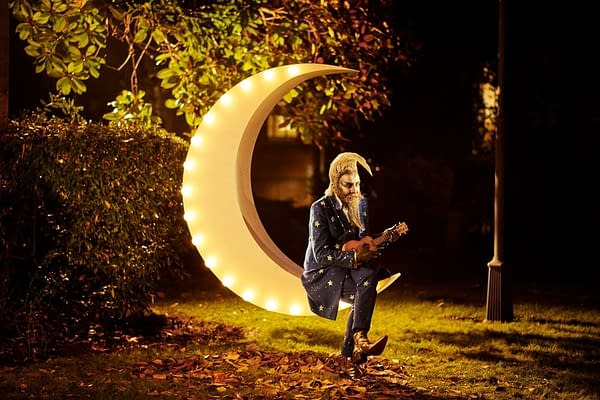 A frighteningly focused man of many talents, passports and identities arrives at England's broken heart, a haunted midlands town that has collapsed to a black hole of dreams, only to find that this new territory is as at least as strange and dangerous as he is. Attempting to locate a certain person and a certain artefact for his insistent client, he finds himself sinking in aquicksand twilight world of dead Lotharios, comatose sleeping beauties, Voodoo gangsters, masked adventurers, unlikely 1930s private eyes and violent chiaroscuro women… and this is Northampton when it's still awake. Once the town closes its eyes there is another world entirely going on beneath the twitching lids, a world of glittering and sinister delirium much worse than any social or economic devastation. Welcome to the British nightmare, with its gorgeous flesh, its tinsel and its luminous light-entertainment monsters; its hallucinatory austerity. Welcome to The Show.