Check Out Trailer For New World War 2 Horror Film Ghosts Of War
Ghosts of War is a new World War 2 set horror film from Vertical Entertainment that will hit DirectTV on June 18th, with an expansion to other digital services on July 17th. The film stars Brenton Thwaites, Alan Ritchson, Skylar Astin, Theo Rossi, Kyle Gallner, Billy Zane, and Shaun Toub, and is written and directed by Eric Bress. The film has some pretty nice visuals in the trailer and looks way better than I thought it would when I opened it. Check out the trailer, synopsis, and poster for Ghosts of War down below.
Ghosts of War Synopsis and Poster
"Ghosts of War follows five battle-hardened American soldiers assigned to hold a French Chateau near the end of World War II. Formerly occupied by the Nazi high command, this unexpected respite quickly descends into madness when they encounter a supernatural enemy far more terrifying than anything seen on the battlefield."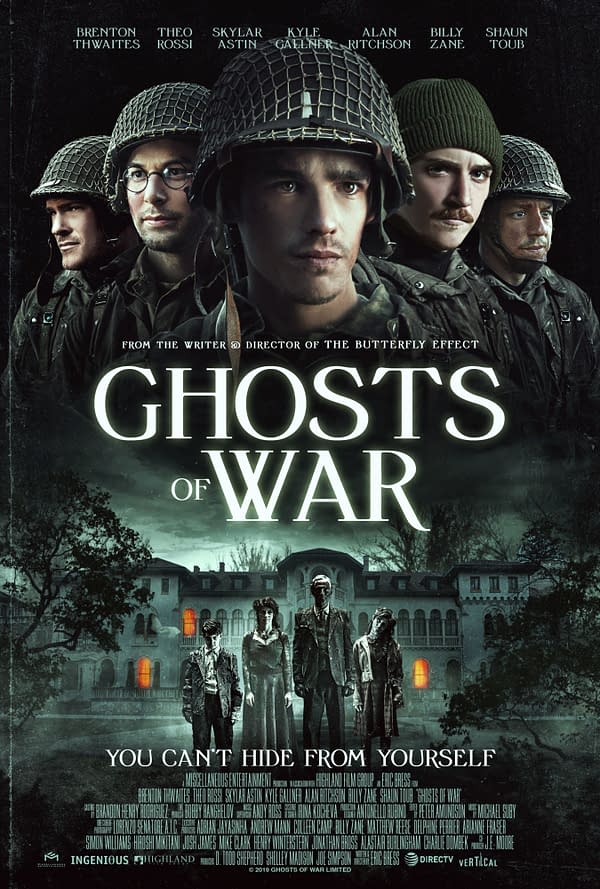 See, that actually looks like it may have some promise. World War 2 horror is nothing new, as recent hit Overlord was a success when it was released a while back. I do not yet know if this film could reach those heights, but the trailer promises some thrills and is entertaining enough to earn a watch from me for sure. Plus: SOA fans can enjoy Theo Rossi. I feel like he hasn't been in much since the end of the show. Super talented, too, so it is nice to see him pop up here. I don't know, there is so much good horror on streaming services right now and coming up, but not all of it looks as pretty as Ghosts of War. I guess we will all find out when it releases soon.