Marvel Staffers Have To Buy Their Own Deadpool Tickets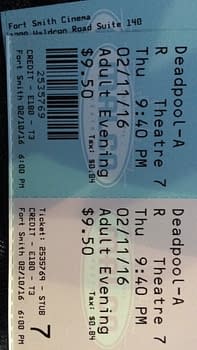 If Marvel Studios makes a film, all the Marvel Comics employees have a private screening together of the new movie.
If Sony make a Marvel film, the same happens.
If Fox makes a Marvel film… it doesn't happen. Bad feeling precludes it. But this goes further back that the last couple of years, I'm told that the last screening of a Fox Marvel film was either X-Men: The Last Stand or Fantastic Four 2.
So if you see Jordan White or Tom Brevoort in line at the local picture palace this week, you'll know why.
It's the first chance they've had to see what all the fuss is about.