Alan Moore's 'The Show' Has Finished Filming, Hitting Cinemas This Fall
This autumn sees the release of Alan Moore's first movie, The Show. Plenty of movies have been made of his work including From Hell, Watchmen, V For Vendetta, Killing Joke, Swamp Thing, Constantine, and League Of Extraordinary Gentlemen– and he has influenced many more.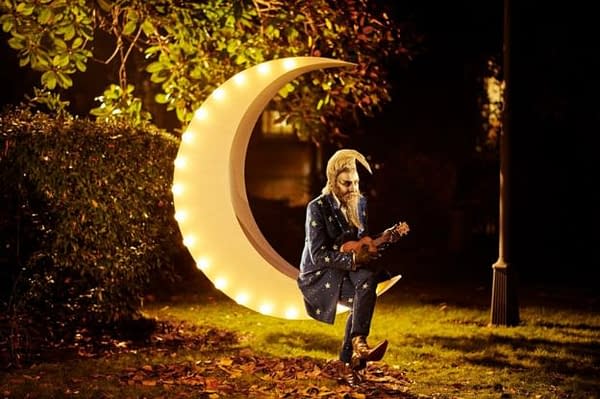 He has turned down many other requests to write screenplays for producers and studios, only the unmade Fashion Beast making it to the typewriter – and eventually a comic book.
But now, following his series of short films, Show Pieces, written for Mitch Jenkins to direct, and with Moore being cast as God – or at least a hellish working men's club former comedian owner Mr Matterson who suggests that he is God – we are getting the full monty. Mitch Jenkins has just finished filming Alan Moore's first movie made from his own screenplay written five years ago, The Show, set in and around Moore's home town of Northampton, which transforms itself into the hellish Nighthampton.
It stars Tom Burke as man-of-mystery Fletcher Dennis with a mission to track down a stolen artifact in Northampton. And sees the cast of Show Pieces reprising their roles.
Moore talked to local paper The Northampton Chronicle about the filming, and what it means for the town wanting to "lift the veil of anonymity":
"I have a sense that Northampton is in some ways a parallel world capital. This is where both the internal wars were settled, where two kings were captured. There is a sense Northampton has been punished for that for centuries. This is about putting Northampton back on some sort of map… These days there are a lot of places doing well based on the fantasies that are set in those places.

I believe the Washington state town where Twin Peaks is set is doing very well. In Ireland, where Game of Thrones is filmed, that is doing well."
And for Northampton, which he sees as a 'failed state' the first to collapse under Government policies of austerity:
"I want to show that even in this collapsed mess that the imagination can make something rise out of this dreadful situation that might possibly alleviate it. If it doesn't it will be a glorious representation of what this town and what it is… This is documentary realism. Although there is a surreal element."
And, he already has the TV spinoff in mind:
"It is not something to run forever, but I think we could get a few seasons of very interesting drama out of this – of a kind no one else has seen. As long as I know how many seasons a potential series if going to run for, then I know what the last scene in the episode of the last season is going to be. That is how I would like to conclude this."
Moore describes the film as sitting somewhere between a flatshare sitcom, a brutal British crime drama and a caper.
The Show has been funded British Film Institute, the National Lottery and Lipsync with a £3 million budget, described by Moore as being held together by "smoke and knicker wire" – but looks like a "ninety million dollar film."