Hickman and Kirkman Sitting in a Tree M-A-K-I-N-G Amazon Shows for East of West and Transhuman
In what may go down as one of the all-time-great comic book bromances, Jonathan Hickman and Robert Kirkman are teaming up to executive produce television shows at Amazon based on two comics co-created by Hickman: East of West and Transhuman.
Respective series artists and co-creators Nick Dragotta and J.M. Ringuet will also executive produce those projects, according to a report from punctuality-obsessed Hollywood gossip rag Deadline. Hickman will also reportedly write the East of West pilot. The series are being produced through Amazon's first-look deal with Kirkman's Skybound Entertainment.
Hickman, who will now be able to add "f*** you money" to the long list of negotiating advantages he has over desperate comic book publishers like Marvel and DC, said of the budding relationship with Skybound and Amazon:
"Nick, J.M. and I couldn't be more excited to be working with Skybound and Amazon. We feel very strongly about each project and couldn't be more appreciative of how far both companies have gone to make us feel welcome. We look forward to doing the work and hopefully doing it well."
Here's the synopsis of East of West #1 from Image Comics' website:
This is the world. It is not the one we wanted, but it is the one we deserved. The Four Horsemen of the Apocalypse roam the Earth, signaling the End Times for humanity, and our best hope for life, lies in DEATH.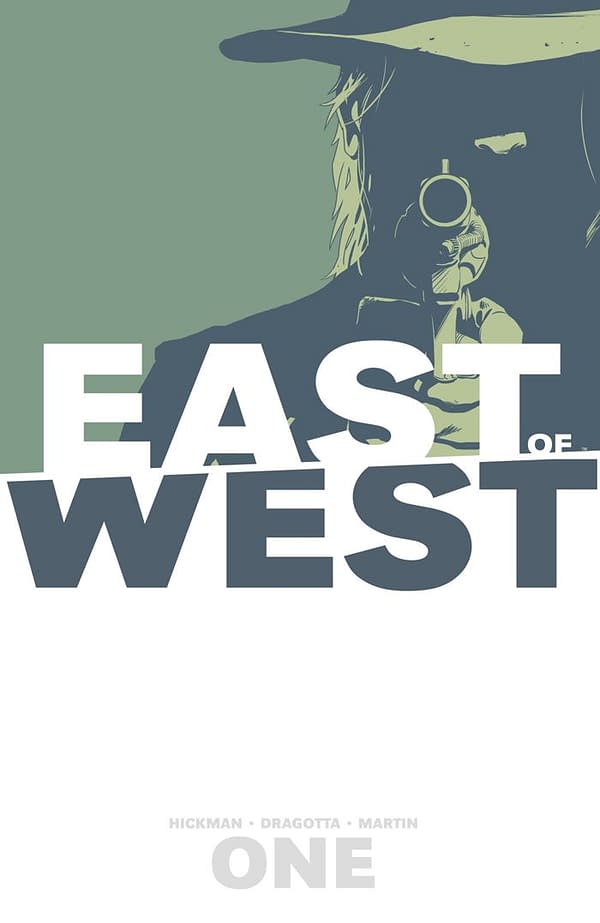 And here's what Transhuman is all about:
From JONATHAN HICKMAN, creator of THE NIGHTLY NEWS, PAX ROMANA and RED MASS FOR MARS, comes TRANSHUMAN, a story that covers the discovery of superhuman genetic engineering, the companies built on the back of that discovery and the marketing war to bring it into each and every one of our homes. Illustrated by JM RINGUET, TRANSHUMAN is a mockumentary told in the same vein as the great Christopher Guest movies Spinal Tap and Best in Show.
You can read both series now, but why bother when you can just wait for the TV shows?