Anna Kendrick is Happy "Trolls World Tour" Is Heading to VOD
Anna Kendrick took to Twitter to tell Trolls fans how happy she is that Trolls World Tour is hitting VOD streaming services on April 10th, the same day as the theatrical release. To be honest, it may not be in theaters that day either, as there is no end in sight for the theater shutdowns right now. Universal made the bold move to announce that Trolls would play day and date in theaters and VOD at the same time when all of this started, an unprecedented step for such a huge feature. That prompted the National Alliance of Theater Owners to say "they wouldn't forget this".
Nevertheless, Anna Kendrick is just happy that she will be able to bring a little bit of joy and escape to the world when we all need it right now:
Anna Kendrick and Justin Timberlake return in an all-star sequel to DreamWorks Animation's 2016 musical hit: Trolls World Tour. In an adventure that will take them well beyond what they've known before, Poppy (Kendrick) and Branch (Timberlake) discover that they are but one of six different Troll tribes scattered over six different lands and devoted to six different kinds of music: Funk, Country, Techno, Classical, Pop and Rock. Their world is about to get a lot bigger and a whole lot louder.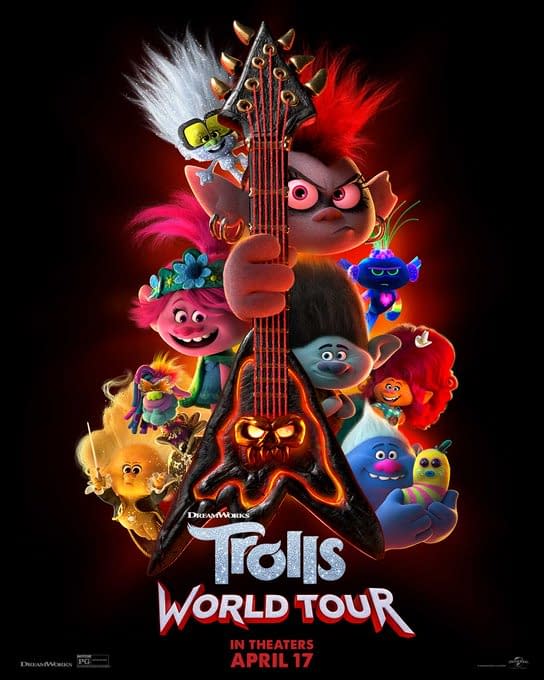 A member of hard-rock royalty, Queen Barb (Rachel Bloom), aided by her father King Thrash (Ozzy Osbourne), wants to destroy all other kinds of music to let rock reign supreme. With the fate of the world at stake, Poppy and Branch, along with their friends — Biggie (James Corden), Chenille (Caroline Hjelt), Satin (Aino Jawo), Cooper (Ron Funches) and Guy Diamond (Kunal Nayyar) — set out to visit all the other lands to unify the Trolls in harmony against Barb, who's looking to upstage them all.
Trolls World Tour, starring Justin Timberlake, Anna Kendrick, Rachael Bloom, Ozzy Osbourne, James Cordon, Caroline Hjelt, Aino Jawo, Ron Funches, Kunal Nayyar, Mary J. Blige, George Clinton, Kelly Clarkson, Sam Rockwell, Flula Borg, Ester Dean, Anthony Ramos, Jamie Dornan,Gustavo Dudamel, Charlyne Yi, and Keenan Thompson, among many others, opens on April 10th, contrary to what that poster above says, and will also be viewable on your preferred streaming service the same day.