This article contains spoilers for the Arrow season 6 episode 'The Thanatos Guild'.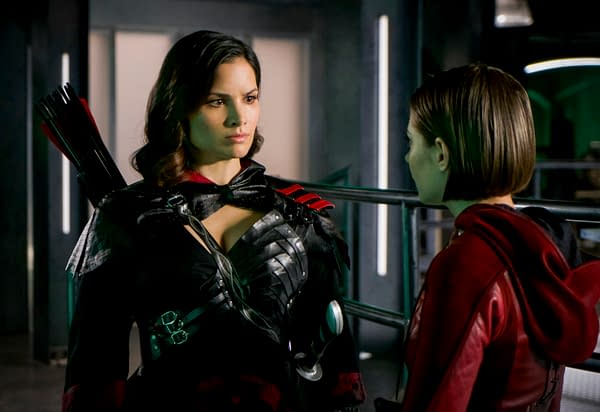 The main story here needs a bit of setup. It seems that when Malcolm Merlyn (John Barrowman) lost the League of Assassins to Nyssa al Ghul (Katrina Law), he tried to make one of his own called the Thanatos Guild. He had a map that would lead to an ancient source of great power, and he hid it so that only his daughter, Thea Queen (Willa Holland) could find it, making the guild wait until Thea was ready to join them. Then Malcolm died and one of his devoted followers, Athena (Kyra Zagorsky), took over he guild and began looking for the map. Nyssa infiltrated the guild to discover their plan and then raced for Star City to warn Thea.
Meanwhile in the Bunker, what's left of Team Arrow is having a going away party for Thea and Roy (Colton Haynes), who are going off to find their happily ever after. There is a bit of tension in the air between John Diggle (David Ramsey) and Oliver Queen (Stephen Amell) over who's going to wear the Green Arrow suit. There's also a discussion surrounding the fact that the D.A. won't drop the case against Oliver now that they've lost Roy's testimony, which tells them the D.A. is on the take.
As Thea and Roy try to leave town, the guild attacks, but Nyssa appears and runs them off. Everyone ends up back at the Bunker, where Nyssa catches them up to speed. Nyssa also makes some comments about Felicity (Emily Bett Rickard) now being married to her husband. Thea decides she will help Nyssa to stop the guild from getting whatever Malcolm left behind.
This leads to an old associate of Malcolm's, who points them in the right direction. Green Arrow, Spartan, and Arsenal join them to find the box, and they have to fight off guild members to get away. Thea setting off a Raiders of the Lost Ark-style trap to take out part of the guild. The map is inside a box that can only be open with the Fibonacci sequence, starting off with the year the League was founded, which was also Malcolm's birthday: 11/13.
Once the box is opened, the map inside is blank and doesn't reveal anything when exposed to heat. Felicity begins to study it with Nyssa guarding her "sister-wife". Alarms go off, letting them know the Thanatos Guild is going to destroy the water planet or electrical plant — something bad for the city — and the team heads there with the map to stop them. While fighting we learn that the map will only appear when it's mixed with Thea's blood. The team stops the guild, defuses the bomb, and saves the day, but Athena gets away.
Looking at the map, Nyssa realizes it's the location of three more Lazarus Pits. She can't let the Guild get them, so she plans to go and destroy each one. Thea decides she will go too, to clean up what he father has done. And Roy is going because he loves Thea. Oliver says his goodbyes to them. Nyssa gives him a ceremonial dagger that symbolizes the annulment of their marriage. She had been messing with them the whole episode about that. Once again, the goodbye takes place on an empty road near the edge of the city — the same way they said goodbye to Roy years back.
There is a sub-story going on involving Curtis (Echo Kellum) and Dinah (Juliana Harkavy) as they continue to look into the SCPD for crooked cops while Rene (Rick Gonzalez) recovers. Dinah is called in on a homicide by Officer Nick Anastas (Evan Roderick), but the case is taken over by Captain Kimberly Hill (Tina Huang). This makes Dinah suspicious of Hill. She and Curtis break into the evidence room to find out what Hill is up to. Anastas finds Curtis playing lookout and Curtis comes up with a story about getting lost. Anastas offers to give him a quick tour — a little bit of flirting going on there. We later discover that the drugs were Vertigo and that is what Ricardo Diaz (Kirk Acevedo) is pushing, while Hill takes any of the drug that gets picked up out of evidence and clears the cases. Dinah now knows Hill is dirty, and Curtis gets a date with Anastas.
It's pretty obvious this episode is a way for the writers to give Holland, Law, and Haynes a proper sendoff. Haynes got his when Roy left after posting as the Arrow, but he's been back a few times. Nyssa helped out at the end of last season, but they weren't able to wrap up her story because of Law being on a new series. And Holland has been scaling back her number of episodes a year for the last two seasons — it was obvious the time was coming for her to leave the show altogether. That doesn't mean they won't pop back up at some point, though. I mean, if you think about it, they've come up with the way to bring back Malcolm if Barrowman wants to return in season 7… or 8. Or for that matter, Tommy (Colin Donnell), if they wanted to go that route. That's the nice thing about the Arrowverse: between time travel and Lazarus pits, there really is no saying goodbye forever to a character.
This has been building up for a while, but next week the battle between Oliver and Diggle of who is going to wear the hood reaches a breaking point. I am still not sure I understand why it's so important to Diggle. He has costume and a name of his own — why is being the Green Arrow enough to fight over? This continues the whole season of people overreacting. If this season doesn't end with some kind of emotion device being used to manipulate the team, I will be disappointed.
https://youtu.be/B60TWrofAuw
Enjoyed this article? Share it!