 You can read the full reduced-spoiler review of Avengers: Age Of Ultron over here.
Time to answer some questions. I am not spoiling everything in the film, I mean come on, but there are some scenes worth of note and discussion that are very spoilery indeed. You have been warned.
Also, this is for those who want them. You'll probably see the film anyway. Hell, you know you will. So be careful how you spread them to other social media. Remember, spoilers don't spoil films, people spoil films…
Okay, here we go.
The Stan Lee Cameo.
A World War II veteran (he is – though it was Jack Kirby, not Stan, who landed on Omaha Beach as he claims for himself) taking part in an Avengers celebratory party – or "revels" as Thor has it. Drinking a little Valhallan liquor and getting smashed in the process. "Exchelshior…." as he drawls being carried out. The first drunk Stan on screen?
The Other Cameos.
Scarlet Witch madness-inspired cameos include Heimdall, Peggy Carter, and more that ties the Black Widow's history's to the Russian girl assassin school seen in Agent Carter. And outside of the dream sequences, yes you do also get an onscreen Falcon too… In fact you know that Free Comic Book Day cover? It does rather have a feel like that…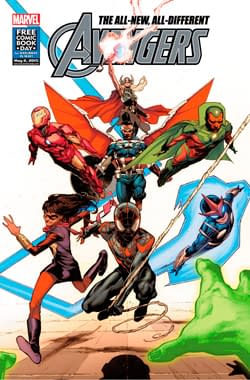 Do You Have The Stones?
Talking about that, the Infinity Gems, or Stones, are finally coming together here, In Thor's Scarlet Witch-madness sequence, he sees all the stones that have been seen in recent Marvel movies, collecting, swirling together in a yellow dust that vaguely resembles a fist… and why?
The Mid-Credit scene.
We had seen all the gems before, twisting in the yellow mist, now we see the Infinity Gauntlet itself, retrieved by Thanos, with empty holes in the glove. "Fine, I'll do it myself." Cue cheers. Infinity War here we come.
Third Eye Comics
Also, it's the Vision's bloody third eye. That little diamond forehead thing he's had in the comics all this time? Infinity Stone-shaped….
The Post-Credit Scene.
There wasn't one. Go home. Don't wait.
Chekov's Hammer.
It is a dramatic rule, Chekov's Gun, that if you show a gun in the first act of a play, it must have been fired by the third act. And so it is here. We have seen the "everyone tried to pick up Thor's hammer" scene a lot over the last year. So much so we may be overfamiliar with what that means. It means that, yes, someone is going to pick it up who is not Thor. And what better way to get over both team and audience suspicion over hat exactly the Vision is, what is thoughts are, what his actions will be, for one beautifully shot scene to see Vision in the extreme right of the screen handing Thor the hammer, very casually. The Avengers shocked but now convinced. And the audience sheering. It may well be the scene of the film, in that it does so much with so few words and so little time.
The Death.
Yes, Quicksilver dies, heroically. And Devin Feraci must answer for his crimes. Only joking. But, spoiled on this particular nugget, I was able to more clearly see how this was being set up, the poignant lines, the foreshadowing at work, that will ensure that this film will further reward with multiple views.
The Other Death.
Helen Cho doesn't look long for this world. I do hope she had Amadeus by now.
The Hot Tub Time Machine
Remember the scene in that movie, with the guy destined to have his arm removed… somehow? But no idea how or when? It was like that with Andy Serkis playing Ulysses Klaw, a South African trader who comes a cropper at the hands of Ultron who accidentally chops his arm off before showing uncomfortable regret. We know it's coming, we're waiting for it to come and then, wham, it's gone. And no way to go back in time to fix it. It does rather set up the Black Panther movie nicely though – Vibranium, Klaw and Wakanda…
The Punch
Remember Hulk punching Thor off the sceen for want of something beter to do? You kinda get a reprise with the Hulkbuster…
Five Of The Biggest Laughs
Captain America: "Language."
Mrs Hawkeye: "I totally support your avenging."
Tony Stark: "The guy's multiplying faster than a Catholic rabbit."
Hawkeye: "I have a bow and arrow. None of this makes any sense."
The Vision: "You might need this."
When the Vision copies Thor's dress sense.
The Credits
Created by Stan Lee and Jack Kirby.
And this time they paid Jack's family a mid eight figure sum, So watch, guilt free…
Enjoyed this article? Share it!