Avengers: Infinity War is Coming – Here's What'll Be on the 4k/Blu-Ray
It seems like it's been 84 years since Avengers: Infinity War stormed into theaters to break our hearts and dust up the future of the Marvel Cinematic Universe. It's actually only been a few months, and that means the home release of the 19th Marvel Studios title is right around the corner.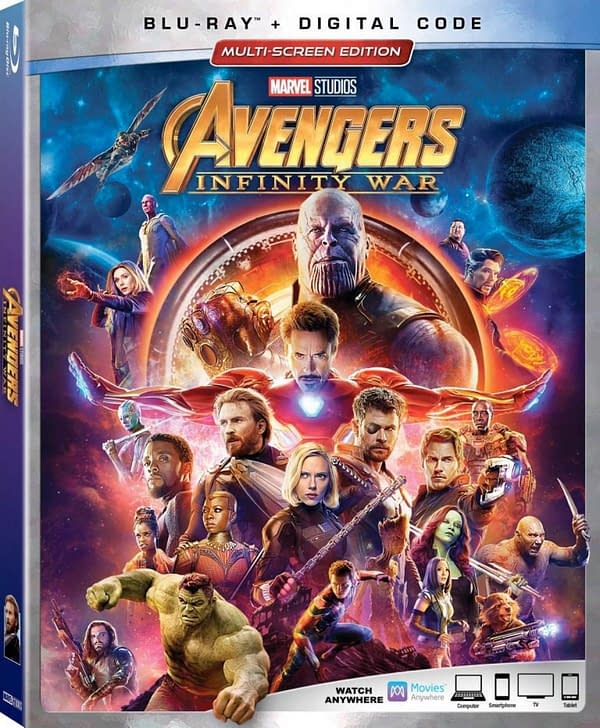 Thankfully, we know what's coming on the 4K, Blu-ray, DVD, etc. release of the film.
We'll start with the things we enjoy the most, the special features:
Strange Alchemy (5:08)– Share the thrill of characters from across the MCU meeting for the first time—and discover why some were teamed up together.
The Mad Titan (6:34) – Explore the MCU's biggest, baddest villain, his trail of influence through the stories, and the existential threat he represents.
Beyond the Battle: Titan (9:36) – Dive into the climactic struggle on Thanos' ruined world, including the epic stunts and VFX, to uncover the source of its power.
Beyond the Battle: Wakanda (10:58) – Go behind the scenes to find out how the filmmakers pulled off the most massive and challenging battle Marvel had ever attempted.
Remember how long Infinity War was? Turns out it could have been an additional 10:07, at least with the deleted scenes:
"Happy Knows Best" (1:23) – Tony and Pepper spar over the details of their upcoming wedding—until a hassled Happy Hogan pulls up with an urgent request.
"Hunt for the Mind Stone" (1:24) – On a darkened street, Wanda Maximoff and the wounded Vision attempt to hide from Thanos' brutal allies.
"The Guardians Get Their Groove Back" (3:20) – As Peter Quill and Drax quarrel over their failed mission to Knowhere, Mantis interrupts with news.
"A Father's Choice" (4:00) – Thanos confronts Gamora with a vision from her past—and with lying to him about the Soul Stone.
And of course, the highly anticipated gag reel AND director's commentary with the Russo Brothers and screenwriters:
Gag Reel (2:05)– Watch your favorite Super Heroes make super gaffes in this lighthearted collection of on-set antics.
Audio Commentary (approx. 149 min.) by Anthony and Joe Russo, Christopher Markus and Stephen McFeely
Avengers: Infinity War is expected to hit the market on August 14th, 2018.