Back to the Future: Michael J. Fox Talks Johnny B. Goode Scene
If there were a singular moment that solidified Michael J. Fox as a pop culture icon, it would be in Back to the Future (1985) when Marty playing along with the band in the Enchanted Under the Sea Dance. Struggling to keep up with the slow nature of the songs, he starts to fade before his parents kiss. After they do, he makes a full recovery. When asked to take the lead, he busts out his rendition of "Johnny B. Goode." While riffing from his electric guitar and vocals, Marty gets a little carried away, shredding while pulling off signature rock moves ahead of everyone in the gymnasium's time, and knocking over amplifiers. The students at the dance, along with the band, stop as he loses control. In a tongue-in-cheek moment, Marvin, the guitarist Marty replaced due to an injury, happens to be related to Chuck Berry, the original artist of "Johnny B. Goode." When Marvin gets Chuck on the phone, he holds the receiver to face the stage so he can "hear" the song play. Fox spoke to Empire about when he shot the scene on the stage.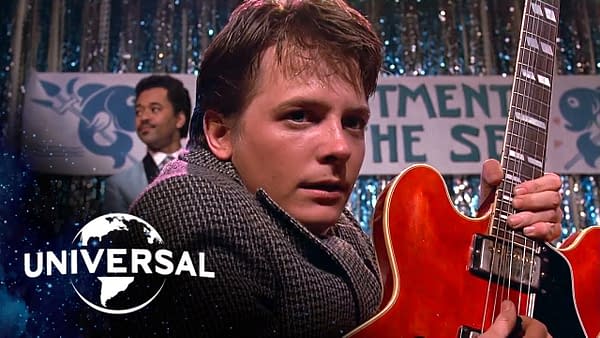 Back to the Future's Johnny B. Goode Scene
"When I did the 'Johnny B. Goode' scene, I had a great guitar teacher who taught me how to play," Fox recalled. "I said to [director] Bob [Zemeckis], 'When I do this scene, I play guitar, so you can finger sync me. Feel free to cut to my hands any time you want.' Having said that, it put pressure on me to get it f****** right. So I had this guy named Paul Hanson, who was my guitar teacher." It wasn't enough for the actor to get the rhythm down, but he worked on choreography to channel his inner-rock star." For about four weeks we worked this piece and at the same time I was working with this choreographer for Madonna," he said. "I said, 'I dance like a duck. I can't dance. But what I'd like to do is incorporate all the characteristics and mannerisms and quirks of my favorite guitarists, so a Pete Townshend windmill, and Jimi Hendrix behind the back, and a Chuck Berry duck walk.' And we worked all that in, and he made it flow. It was moments like that when you don't think, I'm tired or I feel pressure to do this. You just do it and have a blast." You can read the rest of the interview in the Heroes issue of Empire Magazine. Check out the scene below.