Watching the trailer for Bad Times at the El Royale gives fans of a certain genre of film a particular thrill. The kind of people who get excited anytime they see a film in the vein of Free Fire, Smokin' Aces, or anything by Tariatino. Then it comes time to roll into the theater to settle down to watch it, and then – usually in the first 5-10 minutes, you know if you were fooled or not. In the cast of Bad Times, it seems like it's the real deal, though it suffers from one serious drawback.
[rwp-review-recap id="0"]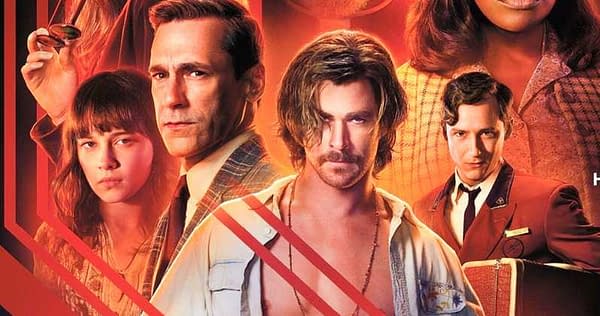 First for the good news – it's an episodically staged dance primarily between five individuals at a Tahoe area hotel called the El Royale. It's an interesting place to begin with since it has the state border between California and Nevada running right through the lobby – putting half of the rooms (and the lobby) in each state. The rooms, while the same, cost $10 more on the California side; why, because they're in California. The characters are all larger than life of their own accord:
Jeff Bridges is Daniel Flynn, an aging priest (yes, naming a Bridges' character Flynn is funny to begin with).
Cynthia Erivo is Darlene Sweet, a singer trying to reach beyond playing the keno lounges of Reno.
Dakota Johnson is Emily Summerspring, a take-no-crap cross between a hippy and a bond girl (the ones not on the MI-6 side).
Jon Hamm is Seymour Sullivan, a vacuum cleaner salesman.
Lewis Pullman is Miles Miller, the hotel concierge (as well as janitor, room service, manager, and really the only employee at the hotel).
As one might expect nearly from the outset, not everything is as it seems and the plot just thickens as the scenes play out. Title cards split segments from each other, feeling like reading an old pulp novel. It's fun, and when things happen, they're generally going from bad to worse – way worse. The largest problem with the film is the pacing. When things hit, they hit hard and fast. Then long interminable (though beautifully shot) scenes will play out. The film could have lost 45 minutes without much impact to the story, and cutting 30 minutes wouldn't have even been noticed. It's a strange problem to have when a film passes the 2 hours mark and you're glancing at your watch thinking, when are they going to wrap this up?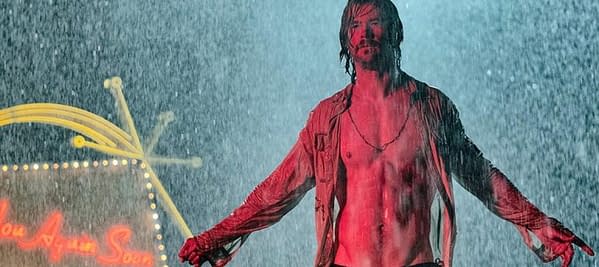 The film has so many redeeming moments and qualities that I'll still recommend it strongly, however it's not one that you'll likely be dying to run back to the box office to get a second ticket for. Ok, except for the Chris Hemsworth open shirt and dance-undulating scene, there's no end of Thor fans who will be all over that part (and if you noticed I didn't include him in the above listing, that's intentional. You'll have to watch the film to see who he is and how he fits in).
This is the first film where the Director's Cut will likely be a good deal shorter – we can only hope.
[rwp-review-ratings id="0"]
[rwp-review-form id="0"]
Enjoyed this article? Share it!