Batgirl Director Joss Whedon Takes Internet Break After Trump Joke Exploiting Teen Cancer Victims Backfires
Joss Whedon, creator of Buffy the Vampire Slayer and director of Avengers and the upcoming Batgirl, found himself under fire this week after an attempt to burn Republicans on Twitter used teen cancer survivors as its punchline. Whedon's now-deleted tweet, which aimed to mock President Donald Trump and House Speaker Paul Ryan, made it all the way to Buzzfeed, as Whedon captioned a photo from Ryan's twitter feed: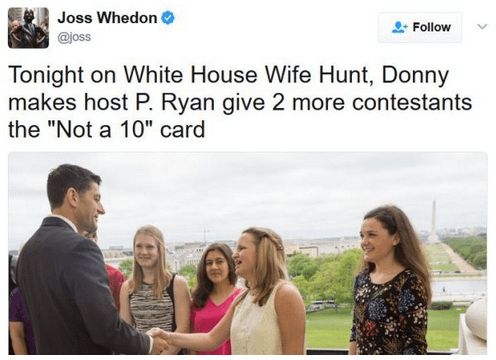 But Whedon didn't appear to consider that in addition to Trump and Ryan, the teenage girls pictured were also the butt of his joke, used as a prop to attack the politicians. And as if making fun of the attractiveness of anonymous teenage girls weren't bad enough, the actual reason the girls were meeting with Ryan made things even worse:
Whedon's insensitive joke was seized on by right-wing media, with Breitbart gleefully running the headline, "Hollywood Director Joss Whedon Sexualizes, Mocks Young Cancer Survivors Meeting With Paul Ryan."
But while mainstream outlets didn't demonstrate the same zeal to criticize Whedon as the conservative blogosphere, no one was especially eager to jump to his defense either, both due to the joke's indefensibility, as well as the fact that Whedon's credibility as a feminist ally has fallen in recent years, and similar missteps have eroded general willingness to give him the "benefit of doubt." On social media, taking Whedon to task was a bi-partisan affair on the level of #FyreFestival, with The Daily Dot noting:
In a rare moment of agreement, conservative media and some of Whedon's own progressive followers denounced the Whedon's inappropriate comment, which effectively rated the attractiveness of teenage girls.
Buzzfeed's article, linked above, also features screencaps of tweets from Whedon's own fans calling him out for the joke. Ultimately, Whedon was left with no defenders, no excuse, and no recourse but to apologize and take a Twitter break.