Bill & Ted: Alex Winter Hypes Duo's Signature Day. Possible Trailer?
Would you believe there are only two months until Bill & Ted Face the Music comes to theaters? As much hype stars Alex Winter and Keanu Reeves and creators Chris Matheson and Ed Solomon create, it's disappointing how we still lack a trailer, much less a teaser. Orion Pictures at least released a teaser poster. Perhaps tomorrow is the lucky day. Why? Winter marked June 9th as Bill & Ted Day. "Tuesday is Bill & Ted day, just sayin' @BillandTed3," he tweeted. Those familiar with the franchise or anyone over the age of seven know the reference to one of the duo's most signature catchphrases, "69 Dude!" As far as to any further speculation, perhaps it will finally be the day we see the official teaser or trailer to Face the Music, the third film in the Bill & Ted franchise.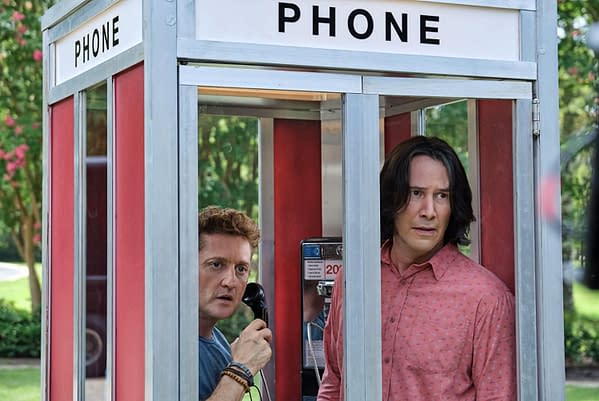 It's been 31 years since Excellent Adventure (1989) and 29 years since their Bogus Journey (1991). Bill S. Preston (Winter) and Ted "Theodore" Logan (Keanu Reeves) are far removed from their days as lovable teenage stoners. Now they're middle-aged fathers to two teenage daughters not far removed from the apple tree. Joining Winters and Reeves are Samara Weaving, Brigette Lundy-Paine, William Sadler, Hal Landon Jr, Amy Stoch, Kid Cudi, Beck Bennett, Holland Taylor, Kristen Schaal, Erinn Hayes, Jayma Mays, and Anthony Carrigan. The Bill & Ted franchise grossed a combined $78 million at the box office. Directed by Dean Parisot (Galaxy Quest), the film comes to theaters on August 21st. Will we finally see the trailer? Are you looking forward to the sequel 19 years in the making?
A visitor from the future tells best friends Bill and Ted that one of their songs can save life as we know it and bring harmony to the universe.