Breaking: "On A Pole" Match To Return To WWE At Extreme Rules When Bayley Takes On Alexa Bliss For Women's Championship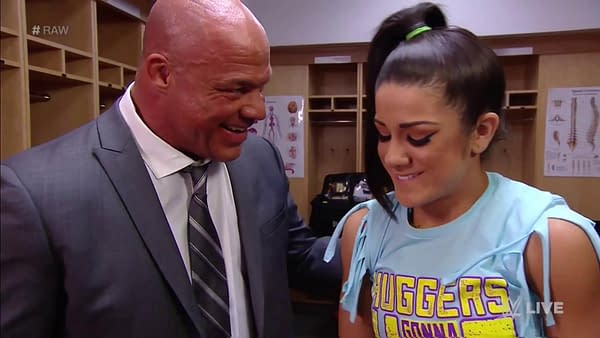 Big news from tonight's live episode of WWE Monday Night RAW! RAW General Manager Kurt Angle just booked a Kendo Stick On A Pole Match for at WWE Extreme Rules PPV in June. Angle made the match while speaking with Bayley in the locker room after Bayley was attacked by Alexa Bliss with a kendo stick during an earlier segment. Angle first offered a standard wrestling match to Bayley, with no kendo sticks allowed. After Bayley protested that she would prefer to get revenge on Alexa for her verbal and physical abuse, Angle agreed to not only allow kendo sticks in the match, but in fact to suspend one from a poll in the corner of the ring, honoring professional wrestling's proud tradition of putting things on poles. Past objects placed at the top of polls during classic pro wrestling matches include contracts, brass knuckles, steel chairs, and Judy Bagwell.
http://www.dailymotion.com/video/x2zof6_buff-bagwell-vs-positively-kanyon-j_sport
Bleeding Cool commends WWE Hall-of-Famer, former world champion, and Olympic gold medalist Kurt Angle for having the courage to bring back the "…On A Pole Match," and we now await the new golden age of wrestling that's sure to result.
At press time, Vince Russo was reportedly huddled on the floor, crying tears of joy.
Per #RAW GM @RealKurtAngle, @itsBayleyWWE's rematch for the #WomensTitle at #ExtremeRules…will be a #KendoStickOnAPole match! pic.twitter.com/dZNlJxlC6U

— WWE (@WWE) May 16, 2017