Finding Bumblebee's Tone and the Future of the Transformers Franchise
When it came to Bumblebee and moving forward with the series, producer Lorenzo di Bonaventura knew they needed to do something different. When he spoke to Entertainment Weekly, di Bonaventura talked about the script that Christina Hodson wrote and making it more character focused.
"She wrote a really beautiful script that really played into the emotion of the relationship of the two," di Bonaventura says. "So looking at the movie from that perspective, we thought, we don't want to overwhelm one Autobot with too many Decepticons. So he has three primary antagonists."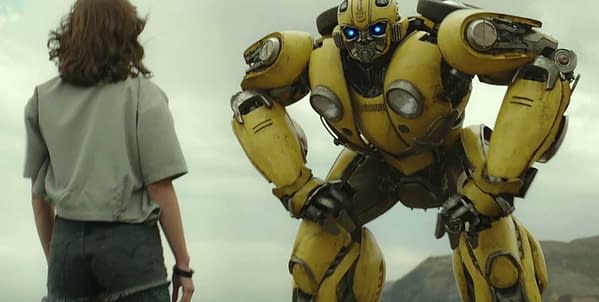 As for who those antagonists might be, we don't know yet, and we probably won't get all of those answers until the movie drops in December. When it came to inspiration for this movie and what kind of tone di Bonaventura wanted, he drew inspiration from a beloved animated movie involving robots.
"In that sense you really get to watch Bumblebee be lovable, be kindhearted, be sweet, be tough, be a warrior, be protective," di Bonaventura says. "We get to see a lot of him in different guises. Years ago I worked [as a Warner Bros. executive] on The Iron Giant, which is a younger story, and therefore different. But it has similarities to that. You really get to buy into the central relationship between the human and the robot."
As for the future, di Bonaventura and everyone else on the Transformers team are listening to feedback. Transformers 6 and Transformers 7 have been pulled from the schedule, for now, and maybe more of these deep dives into one robot are on the table if Bumblebee does well.
"We've gotten a lot of feedback from the fans that they wanted us to do a deep dive on one or two of the robots, because they wanted to get to know them better," di Bonaventura says. "Bumblebee was selected because he's such a loved figure, and he's also more emotional than Optimus. Those were the two likely characters."
Optimus, the team believed, wouldn't make for a very interesting solo movie because he's too strong both physically and in personality.
"He's a stoic leader, and you can count on him," di Bonaventura says. "Whereas Bumblebee is the one who is more emotionally volatile. He has a lot of ups and downs. So it seemed like the best character to try for the first time zeroing in on one Autobot."
What's on the table next? While di Bonaventura didn't have any specifics, he did mention that they have an idea for a follow-up to Bumblebee should the need arise. He said that everyone seemed much more excited and the world seemed more open now that they've tried something different.
"If Bee's successful, we can have a Bee 2, no doubt," di Bonaventura. "We have a good sense of where a second movie would go. For me, the greatest thing that came out of the writer's room was the sense that we could go in any number of directions. It opened up our minds to choices."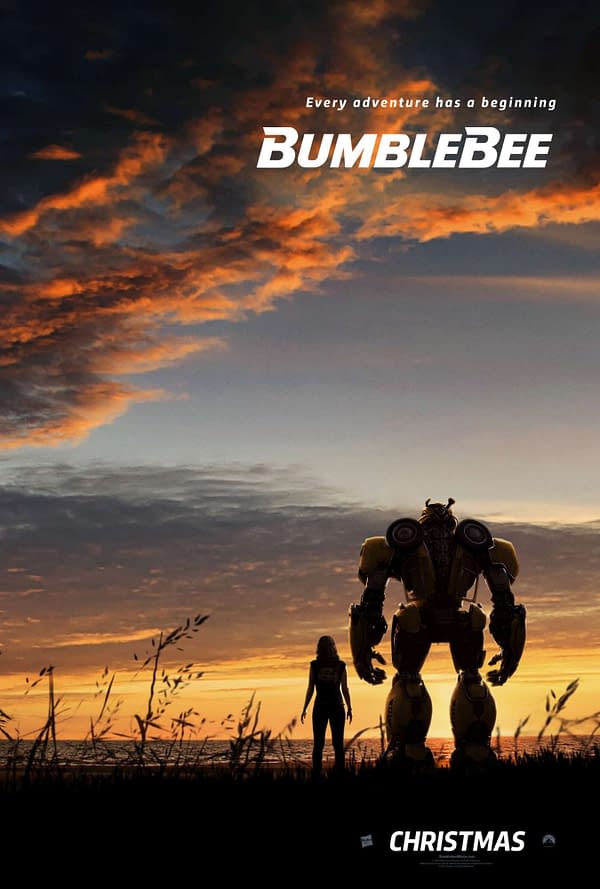 When dealing with a story about giant robots that can change into cars, for some reason there are any number of directions in which they could decide to go next. But one that di Bonaventura threw out was time travel.
"We could do a time travel movie," he says. "You could take almost any genre and do it. You can go back in the past, you can go to the future. So I think we've got an abundance of choices. It's really more about narrowing them down than anything else, and deciding which one we think is the strongest one to go with next."
Right now, everyone is waiting to see if Bumblebee ends up working, but it's nice to see the people behind Transformers trying something different. There was almost no buzz for this movie, but after that trailer people are paying attention. December is a packed month, though, and Bumblebee has plenty of competition. It's just a matter of whether or not it's good enough to stand out and grab an audience.
Summary: On the run in the year 1987, Bumblebee finds refuge in a junkyard in a small Californian beach town. Charlie, on the cusp of turning 18 and trying to find her place in the world, discovers Bumblebee, battle-scarred and broken.
Bumblebee, directed by Travis Knight, stars Hailee Steinfeld, John Cena, Jorge Lendeborg Jr., Rachel Crow, and Pamela Adlon. It will be released on December 21st.