Check Out The IMAX Trailer For Ant-Man and the Wasp: Quantumania
IMAX has released its own version of the latest trailer for Ant-Man and the Wasp: Quantumania. The movie will be released on February 17th.
---
The marketing for Ant-Man and the Wasp: Quantumania is going to start picking up any day now, so if you're someone that wants to stay relatively spoiler-free, now might be the time to keep an eye on what Marvel Studios is releasing. While they usually do a pretty good job of not spoiling anything in official trailers, it's the TV spots that come out in the final month before the movie comes out that tend to spoil something. So, keep that in mind if that's how you like to go into Marvel movies. Otherwise, IMAX released its own version of the new trailer that came out a couple of days ago.
2023 has officially kicked off, and we can now look to the next twelve months of a whole bunch of superhero content from all sides of the aisle. The first ones to come out of the gate with a massive movie will be Marvel with Ant-Man and the Wasp: Quantumania. Ant-Man does not seem like a superhero that would work, yet here we are mere months away from the character completing a trilogy. Is he the biggest superhero in the MCU? Not by a long shot, but he's not the smallest, either. The movies have always performed well both critically and commercially, and now the mini-hero is getting the task of kicking off the next phase of the Marvel Universe.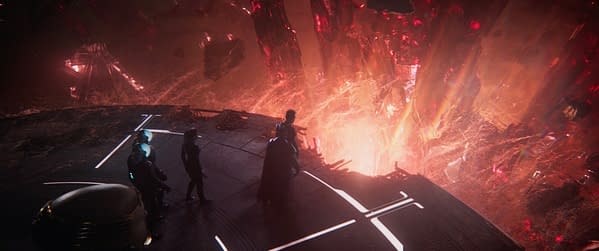 Ant-Man and The Wasp: Quantumania – Cast, Summary, Release Date
In the film, which officially kicks off phase 5 of the Marvel Cinematic Universe, Super-Hero partners Scott Lang (Paul Rudd) and Hope Van Dyne (Evangeline Lilly) return to continue their adventures as Ant-Man and the Wasp. Together, with Hope's parents Hank Pym (Michael Douglas) and Janet Van Dyne (Michelle Pfeiffer), the family finds themselves exploring the Quantum Realm, interacting with strange new creatures and embarking on an adventure that will push them beyond the limits of what they thought was possible. Jonathan Majors joins the adventure as Kang. Director Peyton Reed returns to direct the film; Kevin Feige and Stephen Broussard produce. Marvel Studios' Ant-Man and The Wasp: Quantumania—an epic, sci-fi adventure film, will hit the big screen on February 17, 2023.