Chris Evans Would Really Be On #TeamIronMan And "A Little Digital Simulation Never Hurt Anybody" – Robert Downey Jr At The Civil War Press Conference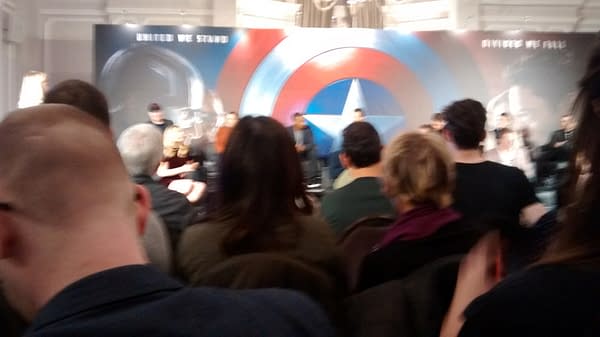 I popped by the Captain America: Civil War press conference at the Corinthia Hotel in London this afternoon – and it is easier to say who wasn't there than why was. Basically, Black Panther, War Machine, Everett Ross, Aunt May, Crossbones, Spider-Man and Black Widow.
Instead, we had Kevin Feige, the Russos, Chris Evans, Robert Downey Jr, Anthony Mackie, Paul Bettany, Elizabeth Olson, Paul Rudd, Daniel Bruhl, Jeremy Renner, Emily VanCamp and Sebastian Stan.
And yes I asked a question, something that occurred to me while watching the film. It would have been rude not to. Maybe not, considering that I asked "could we interpret the hiring of Spider-Man by Tony Stark, as his recruiting of child soldiers and what does that speak to his character?"
Okay, yes that did get an intake of breath from the room. Maybe a little applause from one person. Sorry.
Joe Russo fielded that, and did slightly dodge the question, talking about the narcissism of Tony Stark, and how Stark sees Spider-Man as the most powerful non lethal weapon. One who he instructs to web people up rather than assault. And when things go wrong, to stand down.
Chris Evans did add "but it was very irresponsible."
We learnt lots. Kevin Feige sees Marvel as "Action fetishes." Paul Bettany feels shortchanged, never recognised as the most powerful character in the movie by the fans and critics – and crew. That Hawkeye has a reputation of retiring every ten minutes. That Anthony Mackie has contractual butt shots in the movie, and that Paul Bettany is really obsessed with Mackie's very specific anatomy.
Also how Chris Evans sees the movie as Captain America abandoning his previous ideals, fighting for himself rather than for the public. And of the character's relationship to Bucky. "!Once you risk your life, that's your brother for life. They've each lost so much, Bucky so more than me, so much was taken from him, we are the only remaining thing, chapter, element from a previous life. It transcends the family dynamic of the Avengers. In this movie he does what he wants, he prioritises his personal need over the needs of the masses."
Robert Downey Jr after initially saying that he really wasn't here yet and for other people to answer questions. Later Elizabeth Olson said that she wasn't comfortable about talking for other people, but Downey said he was cool with it.
But he did talk about dining with Kevin Feige and looking back at all the miracles that had to happen in order for all these films to be made and how he is "giddy and super super grateful" and "I generally give no credit to writers, I'll try not to again, but they did an exceptional job." Feige talked about reading Civil War when the Iron Man movie was being made, and how even then he thought that's where he'd like to get to, but that it was impossible.
Emily Van Camp talked of the slight ickiness of being in a relationship with Steve Rogers after Peggy Carter, but justified it in two ways – Peggy was a great aunt rather then her aunt, which was an extra step away – and that they did it in the comics.
Chris Evans said he's take the Vision's powers but not the makeup. Jeremy always wanted to be Spider-Man. And Anthiony Mackie is considering a Falcon/Bucky road movie in the fashion of Weekend At Bernies.
As to where Nick Fury and Thor are in this movie "You'll find out. There's a story about where they are but it's coming."
One scene that I also noted was the moment Captain America single-handedly holds back a helicopter. They confirmed there was no CGI on his arms. Chris said that those big muscle scenes have to be done first in the shoot because "you shed weight as you film, I genuinely did mess up something in my arm, not a natural position to be in."
When filming, he wanted the crew to stretch what he was holding so it really looked as if he was holding something back – and suddenly he was. And it did something. But that Downey Jr's trailer has is full of "amazing toys" to quote Batman and he was able to use Downey's various treatments for stiff muscles.
Jenner said that it was nice for Downey Jr to rub Chris down like that, to Robert's response, which may have been muffled for some, "a little digital simulation never hurt anybody."
But the major revelation was when asked if superheroes were a reality, how would governments react? Chris Evans said "Team Iron Man" before being more specific, that with a group of superpowered vigilantes, there would have to be supervision and that "If there really were Avengers, I would be Team Iron Man."
He really would.
Daniel Bruhl also shared his story of Downey Jr's hospitality, recounting when Downey Jr asked him if he was allergic to anything, to be later invited while eating a burrito to "Robert Downey's village." A great expanse on set. Mackie talked about seeing Bruhl being invited and going "you motherf-cker", it was quite a lusted after opportunity. And Mackie's own visit saw him introduced to quinoa.
It's good to be the Downey Jr.
Captain America: Civil War is released on April 29th in the UK and on May 6th in the USA.