Horror Fans Need to Get Scream Factory's 'Silent Night, Deadly Night 2 Blu-ray
Scream Factory sent us over their new Silent Night, Deadly Night 2 Blu-ray, and we loudly proclaimed "It's Garbage Day!" when it got here!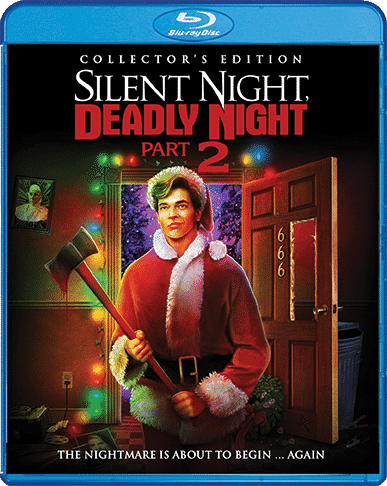 Film: 🍿🍿
Silent Night, Deadly Night 2 takes forever to get going, but when it does, Eric Freeman's performance as Ricky is deranged and fun to watch. From the famous garbage scene to the end, this is such a weird film to take in. A cash grab attempt that didn't grab much cash, this is the definition of a midnight movie. I actually like Ricky more than his brother Billy from the original film. It is a choppy mess, and horror fans love every single second of it.
Picture Quality:🍿🍿🍿
While not perfect, they did an admirable job creating this new 2K scan from an archival print. The age of the film's print causes some softness to faces, and decorations and such. The real issues are when they use footage from their HD transfer from the original films release last year. The mixing of the pictures was a little off-putting, but nothing that prevents you from enjoying your viewing experience.
Sound Quality:🍿🍿🍿🍿
Great work here, the 2.0 DTS -HD master allows for clear dialogue, ambient background noise, and hard hitting effects. This surprised me, and I wish more films from this era and even some more Scream Factory releases had this quality of sound.
Special Features:🍿🍿🍿🍿🍿
Like usual, Silent Night, Deadly Night 2 has a plethora of special features included on the Scream Factory disc. New commentaries and making of featurettes feature basically everyone who worked on the film you would want to talk to. The best thing here is "Slay Bells Ring Again", a 70+ minute exploration of the making of the film from concept all the way to the cult status this one has achieved. Tons and tons of cool content can be found in this, and it is more enjoyable to watch than the film. Other standouts include a new interview with Freeman portraying a modern day Ricky, and a neat look at the effects with make=up artist Christopher Biggs. Just tons of cool stuff here.
While the holidays may be over, this is a great disc to add to the collection for future holiday viewings. The film is not very good, but the performance of Freeman as Ricky and awesome features in the extras more than warrant a purchase.
You can order one for yourself right here.