Screenwriter Christina Hodson has an impressive list of strong female characters under her writing belt, and she's currently in the process of falling in love with superhero Batgirl.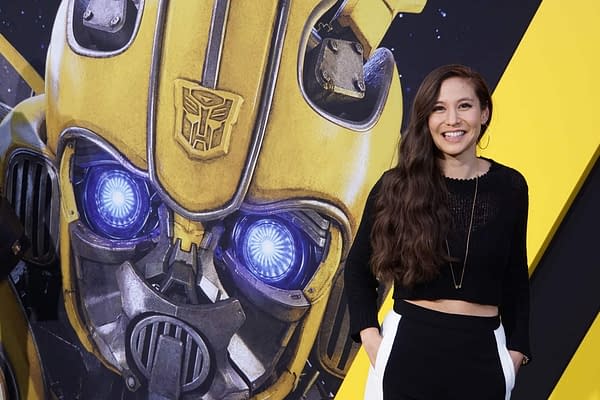 Hodson most recently penned the Transformers standalone film Bumblebee, which starred Hailee Steinfeld as Charlie, a strong young woman who befriends the yellow and black Autobot. She also completed the script for the Suicide Squad continuation film, Birds of Prey (And the Fantabulous Emancipation of One Harley Quinn), starring Margot Robbie as Harley Quinn, Mary Elizabeth Winstead as Huntress, Jurnee Smollett-Bell as Black Canary, and Ella Jay Basco as Cassandra Cain (aka Batgirl).
Variety recently spoke with Hobson about her strong female characters; how she feels about the online reception of the Birds of Prey full title, writing Harley, and how she puts a bit of herself in every character she writes:
Variety: What does the subtitle of your upcoming Harley Quinn film, "Birds of Prey (And the Fantabulous Emancipation of One Harley Quinn)," mean in regards to its themes and ideas?

Christina Hodson: I kind of think it's all in there. I think it sets the tone a little bit in that it's a little tongue-in-cheek. My hands are so tied. But I do think it speaks for itself a little bit. Emancipation means a lot of different things to a lot of different people, and we're going to be exploring that in different ways.

Variety: What kind of response has the title been getting online?

Hodson: Super mixed, but honestly I don't have any social media, so I see very little of this stuff. Some people love it, some people think we're nuts. People will just have to wait and see. I think it's always hard when you're doing something bold like that to do it without any context. There's no marketing yet, we haven't even started shooting. But all things will start to make sense as we get closer and closer to [premiere date] Feb. 7, 2020.

Variety: Will fans be able to accept an emancipated Harley Quinn?

Hobson: I do. I think she really has [been accepted] in the comics already, but I think absolutely people are ready for that. She is such a cool, bold, fun, great character. She doesn't have to be in anyone's shadow. So I'm excited to see Harley stand on her own and be her own thing. She is the character, in all of my writing, that I've most enjoyed. I'm excited to bring her into the world a second time. She's so full of contradictions, she's so intelligent, but also so crazy. She's just the most fun to write. You never know what you're gonna get when you sit down.

Variety: How does writing "Batgirl" compare to Harley and Charlie?

Hodson: I'm in the middle of falling in love with her. I always feel differently at the beginning, middle, and end. Charlie feels like an old friend now, because that was a while ago and because she is so personally inspired. Harley just feels like my crazy alter ego. When I'm feeling nuts, that's what Harley is. And Batgirl…honestly it's funny, there's a little piece of me in every character I write. They start with me, and then they take on a life of their own. She's been through so many iterations. There's certain characteristics of hers that are always there that I'm excited to develop further. Whenever I'm writing a character who's based on someone who's existed in a previous form, whether it's comics or a movie or anything, I always hope to bring something new to them and bring them to life in their own way, even if they fairly iconic like Harley Quinn or Batgirl. I think fans want the original, to be honest, but they also want to see something they haven't seen before.
Bumblebee is currently still in theaters, Birds of Prey (And The Fantabulous Emancipation of One Harley Quinn) is set to hit theaters on February 7th 2020, and no currently expected release date is known for Batgirl yet.
Enjoyed this article? Share it!