CM Punk Stars in New Horror Film Girl on the Third Floor, Check Out the First Clip!
Former WWE star and UFC fighter CM Punk (real name Phil Brooks) is going to give it a go as an actor. He has had a recurring role on the IFC show Maron, and will be appearing in the remake of the David Cronenberg horror film Rabid. Today we get a look at the first clip from the recently wrapped Girl on the Third Floor, his first starring role. It was filmed inside a house that is reportedly actually haunted in a suburb of Chicago, which in case you didn't know is where Punk is from.
"I'm thrilled to have had the opportunity to take on the lead role in Girl on the Third Floor," said Brooks in a statement. "I'm a longtime personal fan of genre films and this project was an absolute natural fit for me."
Check out the clip below, revealed today on WGN TV Chicago:
At the heart of the film is Don Koch (CM Punk), a man who is failing as a husband. For years he has skated by on charm and charisma until it nearly landed him in jail. He now views fixing up an old house as a chance to make up for past mistakes. Meanwhile, his wife, Liz Koch, is concerned about the renovation timeline as they have a baby on the way. With all this pressure it's no wonder Don responds to the flirtations of an attractive stranger. As Don tears the house apart, it begins to tear him apart as well, revealing the rot behind the drywall.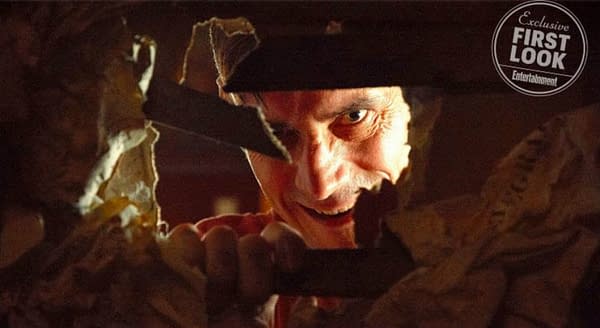 Girl on the Third Floor, directed by Travis Stevens, and starring CM Punk, Trieste Dunn, Elissa Dowling, and Sarah Brooks will release in 2019.