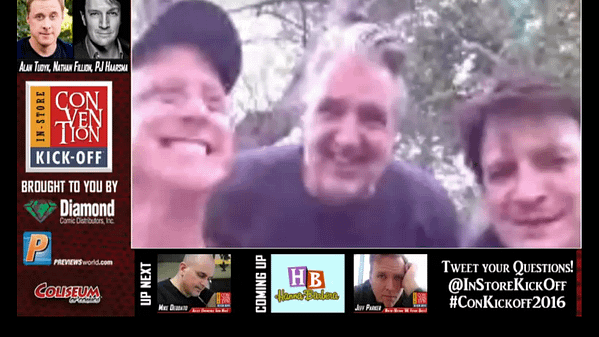 The web series Con Man created, written, directed by and starring Alan Tudyk follows the actor, Wray Nerely on the comic convention circuit. Co-produced by PJ Haarsma and Nathan Fillion, who also co-stars in it as a far more successful actor, it is now spinning off into a Spectrum comic book based on the fictional sci-fi show they were both in. So the trio took to the Instore Convention Kick-Off streaming event , live from a picnic they were at with supporters of the original crowdfunding, to promote it "It's truly a beautiful comic book"
They promised the second webseries will drop in late October and that Fillion and Tudyk will spend a lot more time together. The conceit of the original version kept them apart aside from flashbacks to the show, but now they are forced together.
And to look for the Blu Ray of Con Man very soon, as it has just gone to print.
And no, no news to share about Rogue One, sorry… aside from "it's going to be really cool.. and very good" "No spoilers!"
Follow the rest of our In Store Convention Kickoff coverage here.
Enjoyed this article? Share it!