Exclusive: Hear Tracks From The Soundtrack To Horror Film The Wretched
The Wretched is a new horror/thriller from IFC Films' Midnight label, and it looks very creepy. It almost feels like a coming of age horror film. Featuring some striking visuals and what looks like really spooky effects, this one should be on horror fans radar for sure. Also, a part of any quality horror film is the score, and The Wretched has one by composer Devin Burrows. His score for the film has a powerful, orchestral sound to it, with a bit of a classic gothic tone to it. It really is great, and Bleeding Cool is excited to debut two tracks from the score today. You can hear them below.
The Wretched Will Open in Drive-Ins and on Digital Tomorrow
"Following his parents' separation, a rebellious teenage boy, Ben, is sent to live with his father for the summer and work at the local marina in order to gain some form of discipline. The idyllic tourist town offers little solace for him, however, as he is forced to deal with the local, privileged teens and his father's new girlfriend. Ben's problems grow increasingly disturbing when he makes a chilling discovery about the family renting the house next door. A malevolent spirit from the woods has taken a hold of the parents and starts playing a sinister game of house, preying upon the children and wiping away any trace of their existence. Ben's suspicions of the supernatural horrors go unheeded and he launches a perilous crusade in order to put an end to the skin-walking witch's reign of terror."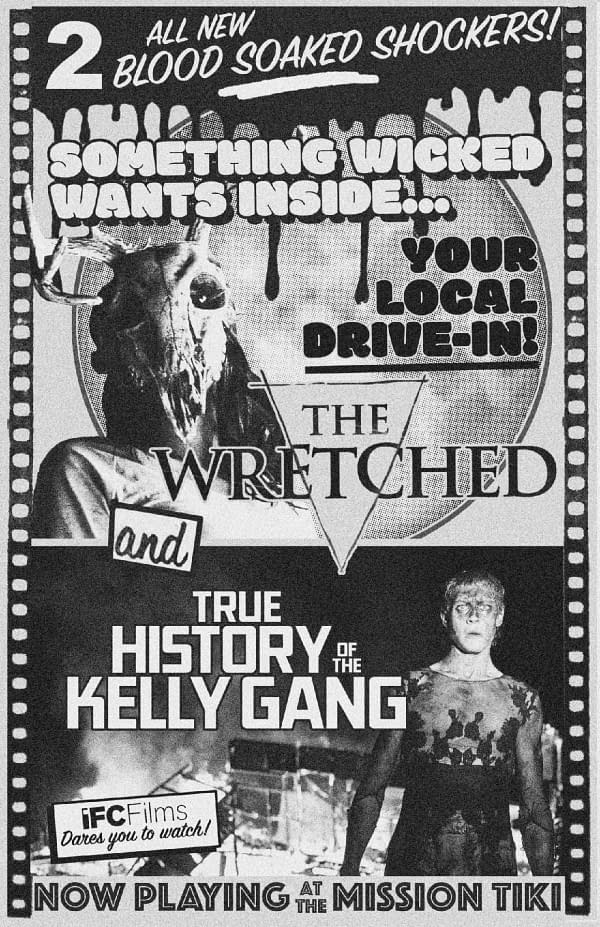 IFC is smartly releasing the film simultaneously on digital and in drive-ins tomorrow. In this climate, I cannot think of a better way to experience a horror film, especially one like The Wretched, than at a drive-in. I wish it were playing near me in Ohio, but them's the breaks. You can find the full, updated list of drive-ins playing the film below, and check out the score as well; it sounds pretty epic.
King Drive-In // Russellville, AL
West Wind Glendale Drive-In // Glendale, AZ
West Wind Sacramento Drive-In // Sacramento, CA
Mission Tiki Drive In // Montclair, CA
Ocala Drive-In // Ocala, FL
Starlight Drive-In Theatre // Atlanta, GA
Raleigh Road Outdoor Theatre // Henderson, NC
Highway 21 Drive-In // Beaufort, SC
Stardust Drive-In Theatre // Watertown, TN
Tascosa Drive-In Theater // Amarillo, TX
Galaxy Drive-In Theatre // Ennis, TX
Hollywood Cinema // Martinsville, VA