According to Mark Henry, Hulk Hogan hasn't done enough to earn a return to WWE after he was fired over a leaked racist rant in 2015. But one former WWE Superstar does want Hogan to return: Ryback. Ryback took to his podcast, Conversations with the Big Guy, not this time to accuse Jinder Mahal of steroid abuse or to say female wrestlers should dress sexier, but instead to express his support for a Hogan return.
"I think in WWE's eyes, I think it is a step in the right direction," Ryback said, as transcribed by Wrestling Inc. "If he wants to be involved in WWE again and working with them, which I'm sure they do, but I think the bigger thing now is that since they are a public company and having major sponsors, it is all based off of their feedback is with WWE. That is something WWE has to discuss with the individual sponsors."
But Ryback isn't just a muscle-bound bruiser. He's also something of a philosopher.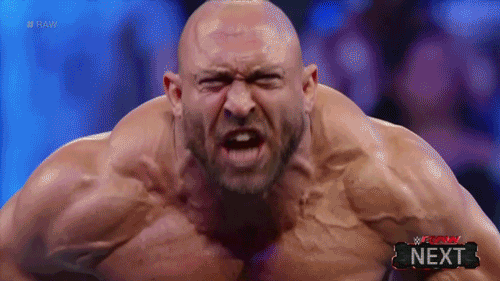 "Here is the one thing with humans," Ryback explained." As much as humans like to hate people and see people fail and fall, one thing humans are really good at is forgiving. That is one thing that you see happen time and time again," Ryback said. "They have made mistakes, and a ton of backlash, but at the end of the day, time heals all wounds."
Deep. When it comes to this type of deep insight on the human condition, all we can say is: feed me more! Feed me more! Feed me more!
"You want to see the comeback and want to forgive, which is what I think you will see with Hulk Hogan because he has done so much to put WWE on the map and where they are. He is one of the cornerstones of the company as far as getting them the mainstream attention at the level where they are at," Ryback said of the Hulkster. "I think Vince McMahon will be forever grateful to Hulk Hogan and Hulk Hogan will forever be grateful to Vince. It is a partnership. I think it is a step in the right direction and I love to see the fences be mended in this situation."
Do you agree with The Big Guy? Should Hogan be allowed to return to WWE?
Enjoyed this article? Share it!