Mike P. Nelson's feature debut as a writer/director The Domestics jumps into the deep end of the post-apocalyptic pool with a cross-country trek that is equal parts Mad Max and The Warriors, with an atmospheric setting not unlike The Walking Dead.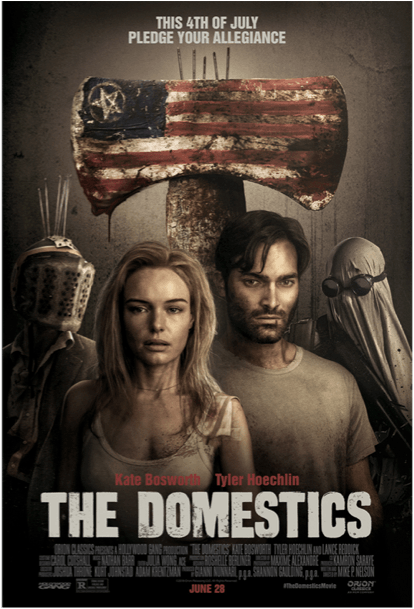 The film stars two Superman-affiliated alums as a married couple — Kate Bosworth (who played Lois Lane in Superman Returns) as Nina and Tyler Hoechlin (who has more recently played Superman on Supergirl) as Mark — who have to battle across 200 miles of gang-infested heartland to reach Nina's family.
In a recent interview with EW, Nelson describes the film:
They are a couple who were on the verge of divorce when the world ended. They stick together for survival, but Mark wants to prove to Nina that he still loves her. Together the two of them embark on this crazy road trip to try and reunite with Nina's parents.
The story sets up that some military has unleashed a viral agent which killed the vast majority of the population but spared the few who had some immunity. In the aftermath of the societal collapse, the country has aligned itself into various gangs, each with its own style and approach to killing off travelers who stray into their territory.
We've got an exclusive clip below featuring scenes from the film and showcasing some behind-the-scenes sneak peeks with Nelson, Bosworth, and Hoechlin.
Regarding the making of the film and his approach towards in-camera and practical effects, Nelson said:
I wanted to make a movie that did action the old-fashioned way. There is a reality to what's on screen because it's all real. Doing almost everything in camera was very important to me, and I think visually makes the movie stand out from the over-processed, computer-generated summer action films.
Written and directed by Mike P. Nelson and stars Kate Bosworth, Tyler Hoechlin, Sonoya Mizuno, Lance Reddick, David Dastmalchian, and Lee Perkins. It's produced by Gianni Nunnari and Shannon Gaulding.
The Domestics opens in select U.S. theaters June 28th and will be available on Video on Demand on June 29th, 2018.
Enjoyed this article? Share it!