A Frozen II Review – Everything You Knew About Frozen Was Wrong #Frozen2
I took the kids to London's Leicester Square for an advance viewing of Frozen II, on general release around the world from November 22nd. Now over the past six years, we have seen Frozen a lot. It came out when my daughters were five and eight apiece. They are now eleven and fourteen. So we have sen it less in recent years, but at one point it seemed to be on constant rotation. Eventually, however, they learned to let it go, and their tastes have tended towards Fortnite and K-Pop respectively. However, the pang of nostalgia works on eve those so young and I was told in no uncertain terms that they were both going to see Frozen II and it was on my to make that happen. And so, at the Odeon LUXE on Leicester Square, we braved the cold to find real reindeer waiting for us – and real pastries too. We got our big seats early (past masters at early morning family show previews, we) wandered around the delights alongside cast members of TOWIE and Made In Chelsea and their families, with face painting, wreath making, wind machines and posing with character cosplayers that led to more of an autumny day.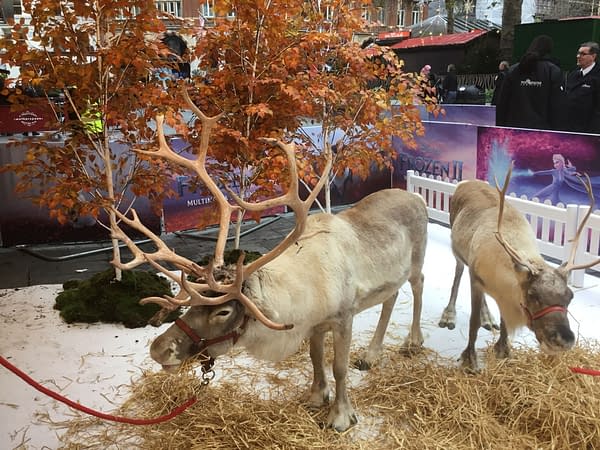 And then the film began. And right from the off, it addressed the meta-ness of the nature of this film, six years after the original, talking the audience (directly at one point, thank you Olaf, for telling us that we all look a little bit older) about growing up, moving on, but wanting everything to be the same, wishing to freeze the moment. And while that's probably true of the kids, it's doubly true of the parents, who want our children to grow up, and make their place in the world but also, why oh why, can't they all be six years younger than they are now and stay fixed like that? Why can't they be, for want of a better word, frozen?
So Frozen II does a very good job of having its ice cream cake and eating it. It gives us an adventure across the world, with lots of ice, and bringing the whole gang along, but also does a lot of Everything You Knew About Frozen Was Wrong. Which means an origin for Elsa and her icy powers, which rather got brushed over in the original, a revisiting and a rewriting of the death Anya and Elsa's parents, and a new history of the town, and one that must be addressed. We also get a story of those ice makers from the original Frozen intro, their song and its history in the land. And for those who might have missed the original (really?) Olaf gives us all a recap from his unique and confused perspective, a comedy highlight and "Doors slamming everywhere" rather tickling me. But this is a story about, the sins of the past, growing up, taking responsibility not only for your actions but for those who came before you and making things right. A story about Empire, that begins with war and death and manages to carry that through, and… yes, change for everyone involved. Transformation as Olaf would say, even if he doesn't understand…
The season of Frozen II is autumn, which means lots of leaves on the ground, and hues of orange, red and brown across their world. Between one world and another, suggesting change to come. The animation techniques have moved on, the better to portray the world around as a lot more than ice and snow, and so leaves, wind, fire, rivers, all become part of the world around them, crunching, splashing or whistling underfoot. This more than justifies the II in the title, we are getting a new chapter, but much more of the world portrayed as we travel through it.
And then there's the music. Frozen had some great songs, arguably better than II, but II does a lot better of integrating them with the story. Anya hears a siren song, four notes, that become part of the two showstoppers, Show Yourself and Into the Unknown, music is part of the story – and so the show doesn't stop. It recalls films like Hunger Games and Close Encounters Of The Third Kind, with a sonic call and repeat that gets integrated into the rest of the film. So, yes, you'll come out whistling… but maybe not the Weezer song Lost In The Woods which at least gave us Sven and Kristoff doing Bohemian Rhapsody videos at one point, but is mostly boyband ballad…
Oh and yes, as I mentioned before, stay for the end credits. It takes one of my favourite scenes in the film and reprises it while also answering one of those nagging doubts I had kept. It is a sequel, do watch the original again before seeing this one, that is unless you can actually still quote most of it. Like taking your coat off in a warm house, before you go back out into the snowdrift, you'll want to get the benefit.

Frozen II is released nationally on November 22nd. Here's what we got up to…