"Godzilla" Director Reveals New Easter Egg and the Post Credit Scene We Almost Had
Godzilla: King of the Monsters was a box office underdog this year, but is conversely labeled as a pivotal chapter for kaiju movies. The epic levels of monster-madness the film used provided such an onslaught of creature carnage that director Michael Dougherty recently spoke out about an easter-egg we may have missed as well as a post-credit scene that never was.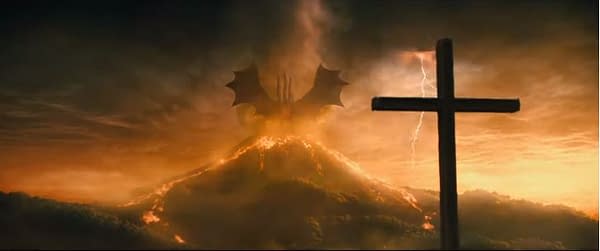 Godzilla: King of the Monsters was in a unique position, coming off complaints from the 2014 Godzilla film for being too driven by character storylines as opposed to Godzilla himself. In KOTM, Godzilla, as well as his monster co-stars, received a majority of screentime introducing several epic titan battles that were unlike anything the franchise had pulled off in 35 films. As the occasional casual viewers took issue with the choice, hardcore fans of the insanely expansive franchise (like myself) have fallen for Dougherty's adaptation for good reason.
With Dougherty having that same passion for Godzilla as the fandom, he has introduced a plethora of easter eggs and intended scenes. One of these scenes includes the skeletal remains of Anguirus, which first appeared in 1955. Dougherty took to Twitter and explained:
Earlier in the week, Dougherty also elaborated on a potential post-credit scene that he still wishes had been filmed, involving fan-favorite Mothra. The director tells Comic Book Movie:
It basically involved Zhang Ziyi's character and it's set in the aftermath of the film. She's in Tokyo and goes into some sort of restaurant or bar and goes down a set of stairs and ends up in what looks like an ancient temple that is eerily similar to the one we saw at the beginning of the film in China.

Then, she meets up with her identical twin sister and the twin sister is expressing her concerns about whether they should go through with this or not, that these girls are so young, and they're not sure if they're ready. Ziyi says, 'So were we once' and they emerge into this giant chamber where we reveal a second Mothra egg and in front of that are two little girls, maybe three or four years old, also identical twins and they're singing the Mothra song to the egg to get it to hatch. I was heartbroken that we didn't get to shoot that because it would have confirmed that she was playing the Mothra twins which is a deep cut reference from the original films.
The reveal of the Mothra twins was included in the movie for Godzilla aficionados, but the scene would have been a great addition to showcase their importance as well as Mothra's connection to the twins. At the very least, we can find solace from Mothra's egg that was shown in the credits sequence, so we know it's only a matter of time before the Queen of the monsters returns to her throne next to Godzilla. With Ghidorah's head suggesting a resurrection is coming and the upcoming Godzilla vs Kong, there are great things coming from the Monsterverse and Dougherty just keeps making the anticipation even greater.