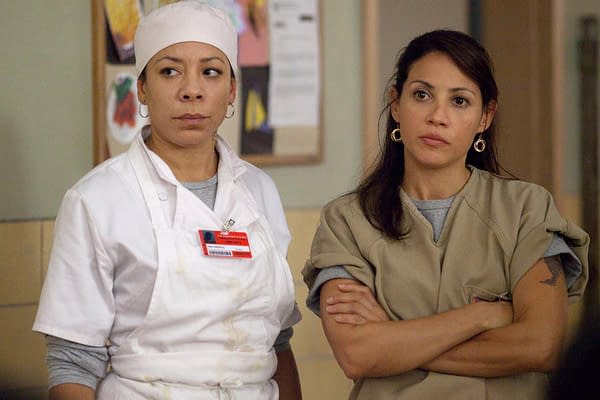 The hackers who we reported earlier this morning claimed to have stolen the new season of Orange is the New Black from Netflix and was threatening to release it online unless the streaming service paid a ransom has reportedly released all of the episodes. They uploaded the first episode of the show as proof and awaited a response from Netflix. This morning, however, according to a report from Buzzfeed, the hacker leader, known as The Dark Overlord, released a statement on Pastebin, saying:
We're back again. Did you miss us? Of course, you did. We're willing to bet Netflix did as well. Speaking of which, Netflix clearly received our message considering they've made public statements and was one of the first people to download a fresh copy of their own property (Hello, 69.53.235.76!) – yet they continue to remain unresponsive. With this information in mind (and the fact that leaving people on cliffhangers isn't fun) we've decided to release Episodes 2-10 of "Orange Is The New Black" Season 5 after many lengthy discussions at the office where alcohol was present.
However, it turns out the hackers weren't able to obtain all of the episodes:
Do note that there are 13 episodes. However, we were so early when we acquired the copies that post hadn't gotten around to Episodes 11-13. Perhaps Netflix will consider releasing the season earlier now that the cat's out of the bag?"
So when they later say…
It didn't have to be this way, Netflix. You're going to lose a lot more money in all of this than what our modest offer was. We're quite ashamed to breathe the same air as you. We figured a pragmatic business such as yourselves would see and understand the benefits of cooperating with a reasonable and merciful entity like ourselves.
…they may have screwed up. Don't these hackers know how binge-watching works? If people watch ten pirated episodes of Orange is the New Black Season 5, they're going to be totally hooked and need to see the final three episodes. That means they'll have to sign up for Netflix, which costs the same whether you're watching thirteen episodes of the show or three.
The hackers claim to be in possession of more stolen TV show seasons, saying:
We're not quite done yet, though. We're calling you out: ABC, National Geographic, Fox, IFC, and of course Netflix, still. There's more Netflix on the feasting menu soon (in addition to the other studios, of course), but we'll get to that later.
For those other studios, the hackers claim the offer for ransom is still on the table, but if the threat is that they plan to get viewers heavily invested in their shows without delivering the final payoff, thus building viewership for the official channels, that may be the opposite of an incentive to pay them off.
Enjoyed this article? Share it!