Halloween Releases Final Trailer, Invites Us to Face Our Fear
The final trailer for Halloween released today, with it sending our anticipation even further through the roof. After the release of the final poster yesterday, all the cards are on the table now. They really have done a brilliant job since that initial tease of Laurie on the porch, and this trailer is no different. Watch it right here!
The film takes place 40 years after the events of that fateful Halloween night that Michael came home in 1978. Since then, Michael is now in an asylum. A British film crew decides to do a documentary on his exploits, and wouldn't you know it, he escapes. Getting ahold of his iconic mask, he makes a beeline for Haddonfield to finish the job. What he does not know is that Laurie (the returning Jamie Lee Curtis) has been prepping for this confrontation as well. The two will face off for what may or may not be the last time where it all began.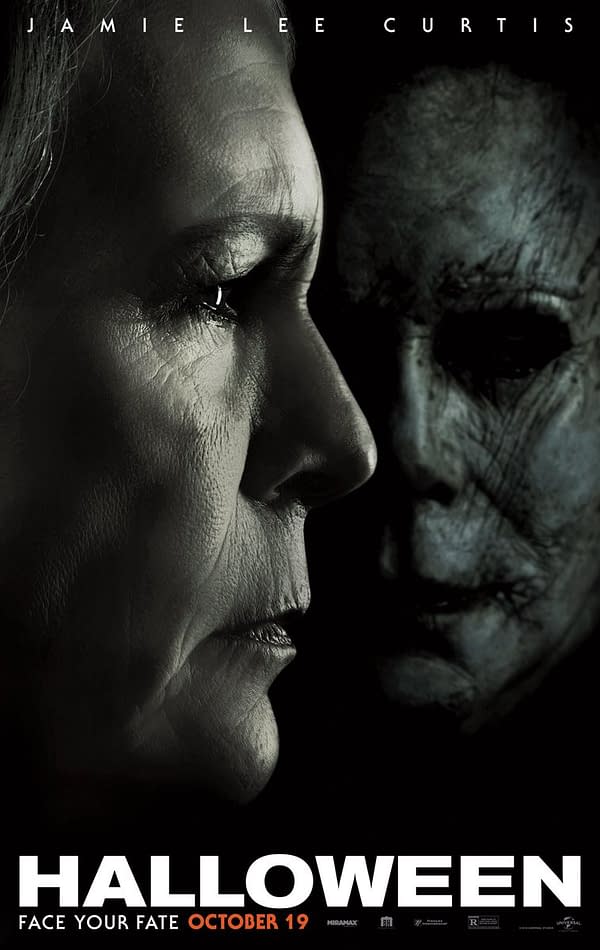 This film is about so much more than a killer running amok. It is about how someone lives with trauma, how they cope, and what they ultimately decide to do about it. Yes, it will be awesome to see Michael on the big screen, doing his thing again. After seeing footage at SDCC in July, he has not lost a step — trust me. But hearing Jamie Lee Curtis come alive when talking about these other layers to the story and director David Gordon Green talking about how seriously they see this property and how they handled it with the class and dignity it deserves… this one is going to be special, folks.
Halloween, starring Jamie Lee Curtis, Judy Greer, Andi Matichak, Virginia Gardner, Will Patton, Miles Robbins, Jefferson Hall, James Jude Courtney, and Nick Castle as The Shape hits theaters on October 19th.