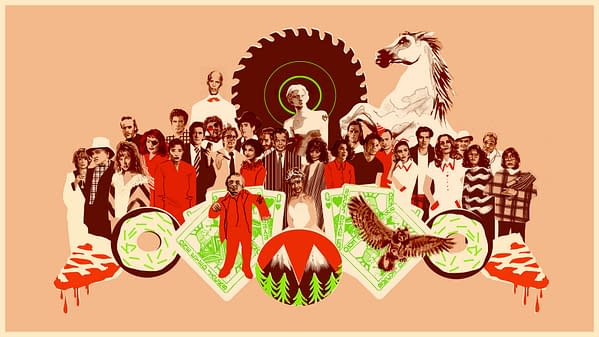 On BBC Radio 4, available online around the world right here, a documentary on 25 years of Twin Peaks, ahead of the new revival is going to be broadcast in seventy-five minutes. And available to listen again afterwards right here.
It's been 25 years since we first entered the 'cherry pie' logging town and met Agent Dale Cooper, the Log Lady, and the terrifying Bob. To mark the anniversary Danny will have 'water-cooler moments' with Lynch-inspired director Richard Ayoade and crime writer Denise Mina. We'll pay homage to the soundtrack that influenced musicians from the 90s to today with DJ Rob da Bank. Andy Burns, author of Twin Peaks history Wrapped in Plastic, explains how the programme still ripples through popular culture today. And Dr Kirsty Fairclough-Isaacs, senior lecturer in media and performance at Salford University, gives us a lesson on how Twin Peaks transformed television. But in 2015 as in 1990, the owls may not be what they seem…
Enjoyed this article? Share it!