Thanks to our friends over at JoBlo, we have a brand new Creed II featurette video featuring none other than Ivan Drago himself, Dolph Lundgren.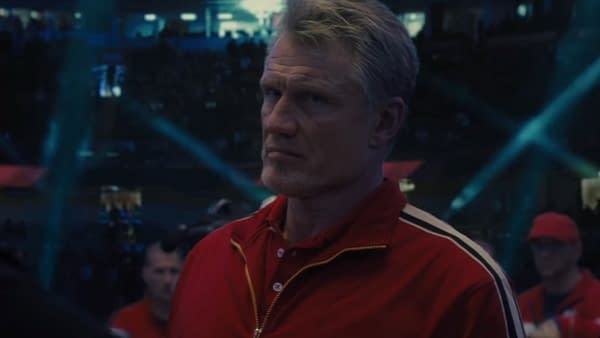 Sylvester Stallone, who will return in the film as Rocky Balboa, makes an appearence in the video to discuss what Drago represents for both Balboa, and Michael B. Jordan's Adonis Creed:
"Drago represents revenge. So now he's blaming his entire self-destruction on Rocky."
Lundgren continues with that thread, diving into Drago's Olympic past, and why Ivan and his son Viktor Drago (played by Florian The Big Nasty Munteanu) seek out Creed as an opponent in Creed II:
"Ivan was an Olympic champion, he was a hero of the Soviet Union, but 33 years ago he lost a fight to Rocky Balboa. But now he's trying to come back onto the world's stage, and he has to use his son to get there. So we're coming to America to put on this fight against Adonis and confront Rocky and to let him know, 'You did this to me, and now I'm going to do it to you and your boy'."
You can see the featurette here:
Offically, the synopsis for the film says:
Life has become a balancing act for Adonis Creed (Michael B. Jordan). Between personal obligations and training for his next big fight, he is up against the challenge of his life. Facing an opponent with ties to his family's past only intensifies his impending battle in the ring. Rocky Balboa (Sylvester Stallone) is there by his side through it all and, together, Rocky and Adonis will confront their shared legacy, question what's worth fighting for, and discover that nothing's more important than family. Creed II is about going back to basics to rediscover what made you a champion in the first place, and remembering that, no matter where you go, you can't escape your history.
Creed II will be hitting theaters on November 21st 2018, just in time for Thanksgiving.
Enjoyed this article? Share it!