Jai Courtney Says [Again] He's in 'The Suicide Squad' as Captain Boomerang
This is actually the second time actor Jai Courtney has commented "on the record" that he WILL be returning for Warner Bros. Pictures upcoming The Suicide Squad as his character Captain Boomerang.
Back in March, Courtney spoke with Business Insider and confirmed that he was coming back for The Suicide Squad, as far as he knew.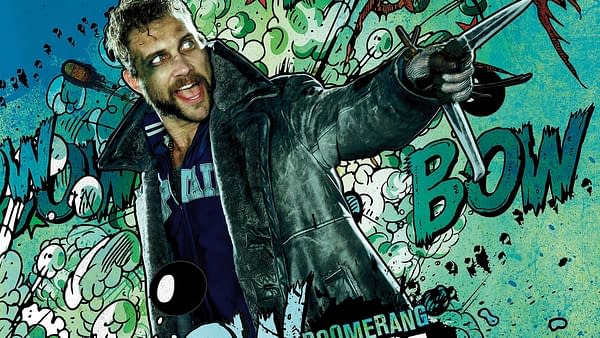 We're (among other outlets) are still a little fuzzy on exactly what the James Gunn-written and directed film will relate to David Ayers' 2016 Suicide Squad film about the DC Comics team. Reports have claimed it's a sequel, not a sequel, a reboot, a reimagining, and a totally different tale- all from various sources within WB.
Just last week, Courtney again stated that he was coming back, to play his same character in this next chapter, following reports that Idris Elba (who had reportedly been brought in to replace Will Smith as Deadshot) will be playing a totally new character. This time it was to The Hollywood Reporter.
"Yeah, I am [returning]," Courtney told THR. "I said it the other day in an interview and I felt like I let the cat out of the bag. I haven't been sworn to secrecy about it so I guess it's okay to say that I will be. I loved playing Captain Boomerang,"It's just like a rockers nightmare. Just looking forward to reprising that and getting the gold tooth back in and getting after it."
Last we heard, John Cena is currently "in talks" to join the film, Viola Davis is set to return as Amanda Waller, Margot Robbie *should* make a return appearance as Harley Quinn (even thought she has her own film now, Birds of Prey and the Fantabulous Emancipation of One Harley Quinn), and Courtney as the Cap.
Warner Bros. Pictures currently has The Suicide Squad set for an August 6th, 2021 release date.