Fans of the Halloween franchise were beside themselves with excitement when one of our original scream queen icons Jamie Lee Curtis announced she was coming back for the new installment. She's been with the film series since 1978 (albeit missing several of the subsequent sequels and reboots and revisits along the way) but she's BACK for the next one.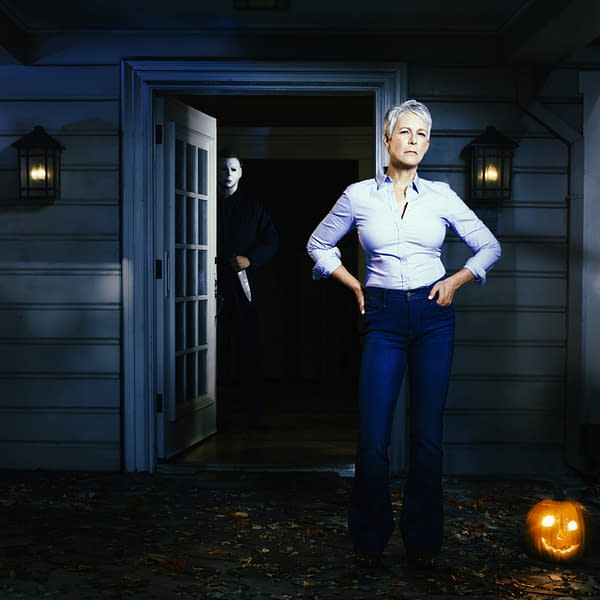 This morning, Curtis tweeted this image along with the phrase "first shot, first day, same slate, same Laurie", confirming that filming is indeed under way in David Gordon Green's film:
First shot! First day. Same slate. Same Laurie. David Gordon Green directing from his script. Happy Halloween 2018 everyone. See you 10/19/18 @halloweenmovie #HalloweenMovie pic.twitter.com/iSC7NOblEA

— Jamie Lee Curtis (@jamieleecurtis) January 30, 2018
Back on Halloween last year (because of course it was) this FABULOUS image of Lee and Michael Meyers was released:
SOME WOUNDS NEVER HEAL
Michael & I will see you all next Halloween 10/19/18#Trancasfilms #Blumhouse #Universal #Halloween #H40 pic.twitter.com/Qbj4B9UAPL

— Jamie Lee Curtis (@jamieleecurtis) October 31, 2017
There has been a lot said about this new film, about what the plot may entail. Apparently, this film will pick up right after the first film, ignoring the sequel, where we learn that Laurie is Michael's sister. So, that could be retconned, but we're not positive yet.
We also know that John Carpenter is writing something new soundtrack-wise for this film, which of course lends it yet further credence of being a 'true' sequel.  (Although we do really love Oscar winners Trent Reznor and Atticus Ross's version of the iconic theme from last year, which you can listen to here.)
 Halloween is currently set to release on October 19th, 2018.
Enjoyed this article? Share it!