Jeff Goldblum on the Grandmaster's Fate After Avengers: Infinity War [Spoilers]
When you make a world as vast and massive as the Marvel Cinematic Universe, there are going to be a lot of questions about the side characters that we don't see. In the case of Avengers: Infinity War it comes down to "did we literally see a body? No? Then who knows." Anthony and Joe Russo have been slowly revealing the fates of characters we didn't see, but this time it's Jeff Goldblum's turn to tell us what we want to know. Goldblum revealed the fate of the Grandmaster to Digital Spy, but since the movie is still only six weeks old or so, here is a spoiler warning. .
.
.
.
.
.
.
.
.
.
.
.
.
.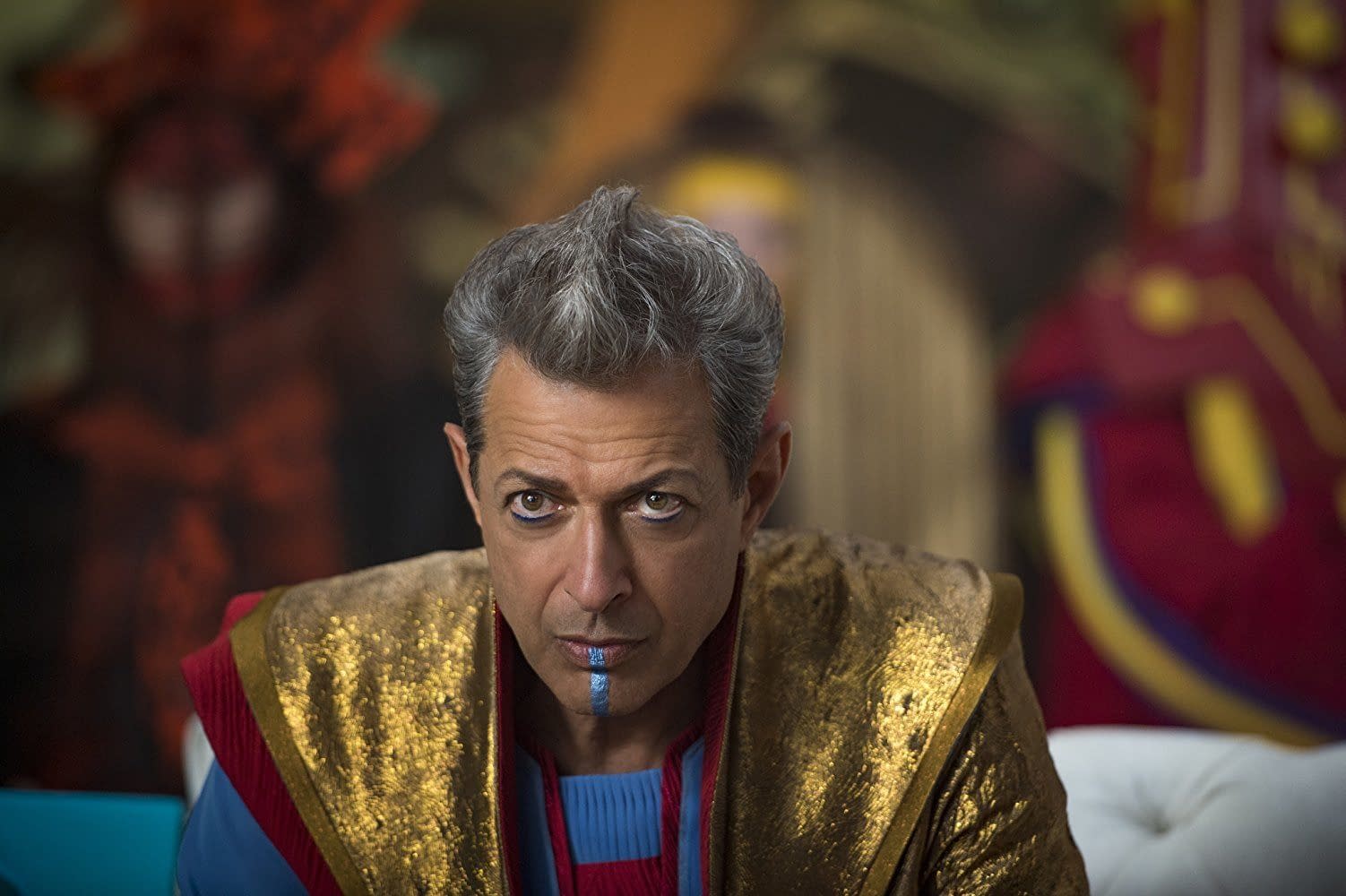 The Elders of the Universe are a concept that the Marvel Cinematic Universe has only touched on but hasn't really explained. There are plenty of fans that don't know the comics, so they would be wondering if the Grandmaster survived The Snap. Goldblum clarified that the Grandmaster is very much alive after The Snap because, as he said "you can't kill me."
"Grandmaster is more superheroed than all of them put together. You can't kill me, I'm like a vampire," Goldblum says. "I'm deathless and I can kill people by looking at them. Or I can resurrect them just by looking at them and thinking of them. I can do everything. Being able to do all of that, all I want to do is play games. So really I'm everywhere and nowhere. I'm like Keyser Söze."
When asked if he'd like to return to the Marvel Cinematic Universe, Goldblum was extremely enthusiastic.
"Yes, yes, yes," Goldblum replied. "I could be, potentially, very much around. Anything they want me to do I'd be ready and able."
For fans who didn't know if the Grandmaster can't die, then it stands to reason his brother, the Collector played by Benicio del Toro, survived Thanos destroying Knowhere to get the reality stone. That isn't confirmed though, and it's kind of surprising no one has asked yet.
Summary: As the Avengers and their allies have continued to protect the world from threats too large for any one hero to handle, a new danger has emerged from the cosmic shadows: Thanos. A despot of intergalactic infamy, his goal is to collect all six Infinity Stones, artifacts of unimaginable power, and use them to inflict his twisted will on all of reality. Everything the Avengers have fought for has led up to this moment – the fate of Earth and existence itself has never been more uncertain.
Avengers: Infinity War, directed by Anthony and Joe Russo, stars Robert Downey Jr., Josh Brolin, Mark Ruffalo, Tom Hiddleston, Chris Evans, Chris Hemsworth, Jeremy Renner, Chris Pratt, Elizabeth Olsen, Sebastian Stan, Benedict Cumberbatch, Paul Bettany, Chadwick Boseman, Benedict Wong, Zoe Saldana, Karen Gillan, Vin Diesel, Dave Bautista, Pom Klementieff, Scarlett Johansson, Don Cheadle, Tom Holland, Bradley Cooper, Sean Gunn, and Anthony Mackie. It's out now.