Heading into the third film in the John Wick franchise, it's a refreshing kind of sequel – one that knows exactly what is expected out of it, and it takes a perverse relish serving it up the same way that Wick himself serves up point blank headshots. John Wick: Chapter 3 – Parabellum, hits the ground running, picking up just moments after the end of Chapter 2 and doesn't really let up throughout its more than two hour running time.
[rwp-review-recap id="0"]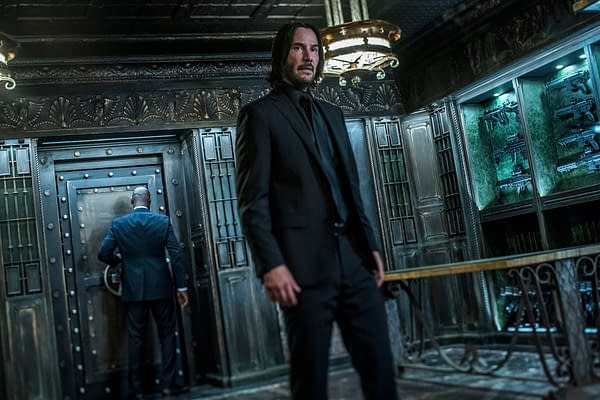 Keanu Reeves, who stars as the titular John Wick, has been in plenty of action films before, but it's been in the Wick films where he has found a nearly perfect niche. He doesn't have to reach outside of his acting range (which has never been accused of being particularly wide), and instead spend his time gloomily seeking safety and revenge by whatever means happens to be at hand.
The world that Wick inhabits is one of a worldwide assassin's syndicate lead by a group called The High Table. Around the world are branches of The Continental, sanctuary hotel-resorts on whose grounds any violence is strictly prohibited. In Chapter 2, Wick broke the rules and killed a crime lord in the hotel's lounge. Now Chapter 3 opens with The High Table having placed a $14 million price on Wick's head with the contract becoming active in one hour – after which time no one will be permitted to lend him the least bit of assistance (and all of the assassins will be coming after the bounty).
The action sequences pick up as intense and bloody as they were in the prior films and then solidly ratchet up both the technical levels of the action as well as the body count. Anything we've seen before hasn't really come close, other than perhaps the Kingsman's Church Massacre.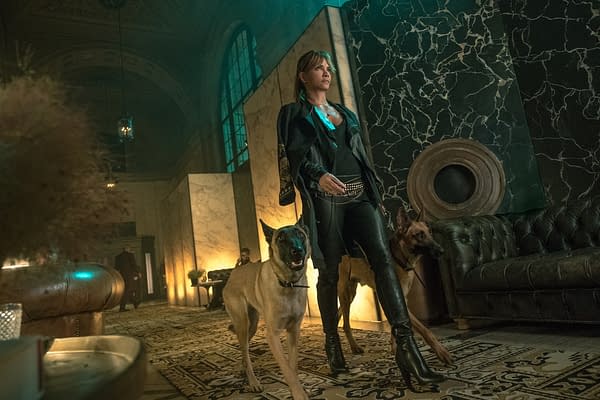 The film does have a few vignettes which flesh out some more of the syndicate's backstory and interpersonal relationships, which may be pointing towards the planned companion television series also in production. Halle Berry is a newcomer to the series as Sofia, a former acquaintance of Wick's who is a manager of her own branch of The Continental, and gives her own best action performance to date (word is that she'd broken three of her ribs during training for the sequences).
There's so many kills and headshots (not to mention myriad dispatches via whatever objects happen to be at hand, this time including a book), that keeping track of things is a challenge. However where many lesser-skilled directors would make it all an illogical jumble of jump cuts, you clearly see everyone being knocked off, there's just a whole lot of them to try to keep track of. They don't let Wick off easy, he take plenty of his own graphic damage – to the amount that John McClane would even wince.
'John Wick: Chapter 3 – Parabellum' opens everywhere this weekend and is rated R.
Enjoyed this article? Share it!