Jumanji: Welcome to the Jungle's Gag Reel is Almost Better Than the Movie
While I know I'm in the minority in my scoring of Jumanji: Welcome to the Jungle, I do appreciate how many people absolutely loved it. The majority of those fans (who helped keep the flick high in the box office) seem to have not been strongly emotionally attached to the 1995 Robin Williams-starring film.
Director Jake Kasdan (Walk Hard: The Dewey Cox Story) did manage to create a 'reboot' that didn't really reboot anything. I would argue it's more a revisit — a story told in the same universe, but not really attached to the source — new characters, new jungle, new game.
Starring Karen Gillan, Dwayne The Rock Johnson, Kevin Hart, Jack Black, and Nick Jonas, Jumanji: Welcome to the Jungle sure seemed to hit the funny bone of most audiences who saw it. This, of course, leads me to what you're here for: the gag reel.
Those crazy Frostys over at Collider got the scoop on the gag reel (which hasn't been released officially anywhere else yet), so please enjoy a good laugh courtesy of them: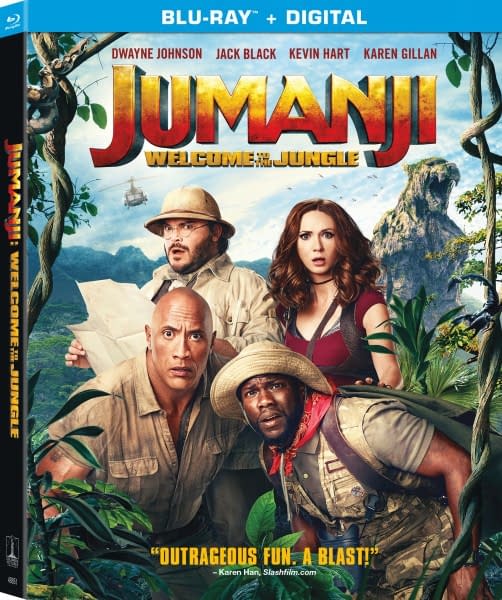 The Blu-ray combo pack has some special features, including:
Gag Reel
Jumanji, Jumanji Music Video by Jack Black and Nick Jonas
Five Featurettes
Journey Through The Jungle: The Making of Jumanji
Meet the Players: A Heroic Cast
Attack of the Rhinos!
Surviving the Jungle: Spectacular Stunts!
Book to Board Game to Big Screen & Beyond! Celebrating The Legacy of Jumanji
Jumanji: Welcome to the Jungle is available now on Digital HD and hits 4K, Blu-ray, and DVD on March 20th (today).