Justice League Theatrical Cut Was So Bad It Made Zack Snyder's Cinematographer Cry
In 2016, before the completion of the final cut of Justice League, filmmaker Zack Snyder had to leave the film due to a personal tragedy. Warner Bros hired alleged fake feminist Joss Whedon to complete the film, with both Warner Bros and Whedon vowing to remain true to Snyder's vision.
However, that was all a lie, as Whedon immediately cut all of Snyder's badass Superman scenes and replaced them scenes in which Cyborg says "booyah" or in which Henry Cavill's face is turned into a living nightmare by a digitally-removed mustache. Additionally, all vestiges of Snyder's Darkseid plot and his grim and gritty view of the murderous heroes of the DCEU were removed. As a result of this meddling, Justice League flopped at the box office, losing money for Warner Bros, causing DC Films President Jon Berg to pay the ultimate price, and effectively ending the DCEU, which was replaced by Worlds of DC.
But that's not the worst of the consequences of Warner Bros' and Joss Whedon's butchering of Justice League. It also made Zack Snyder's cinematographer, Fabian Wagner, cry, like Superman after snapping Zod's neck in Man of Steel before making out with Lois Lane in the wreckage of Metropolis.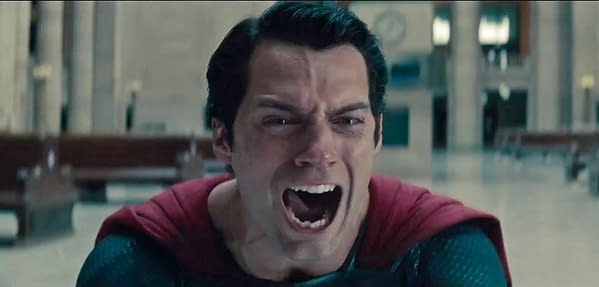 In a serious and definitely not joking interview with ComicBook Debate as transcribed by fried chicken website ComicBook.com, Wagner revealed that he had indeed seen the final cut of the film… but it was hard to keep track of how much had changed because he was crying the whole way through.
I have, unfortunately.

It's really hard to say because I was watching it and I think I was crying all the way through. So it's hard for me to say exactly how much was changed, but a lot was changed. It looked very different, and it's sad for me because I loved working with Zack; I had the best time of my life. There were many other things on that movie that made it so good apart from the fact that I was working with Zack and the whole gang. I met my wife on that job. There [were] a lot of other things. It was just a great shoot, and so it was a shame to see the film the way it turned out to be.

You can just see, if you watched the first trailers you can see how the film should have looked and how the film did look when we were shooting it.
Though Warner Bros' chance to overtake the Marvel Universe died with Justice League at the box office, thankfully, there's still a path to redemption. All Warner Bros has to do is release the Snyder Cut of Justice League, a version of the film which restores Zack Snyder's Vision to its pristine glory.
Demand for the Snyder Cut has only grown since Justice League hit theaters, with hardcore fans of the director, a group known colloquially as Snyderbronies, have organized to ask Warner Bros to release it, creating websites, holding rallies, and buying up billboards. Snyder himself has confirmed that the cut does exist (in fact, there are two of them), so hopefully it's only a matter of time before Snyderbronies get their wish and Warner Bros sees the error of their ways.
But will that be enough to make up for what Warner Bros did to Fabian Wagner?
There's only one way to find out: release the Snyder Cut!