Justice Society: World War II – Matt Bomer Talks Barry Allen's Humor
Since Barry headed off at the end of Justice League: Apokolips War, WB Home Entertainment has released two movies in the DCEU, Superman: Man of Tomorrow and Batman: Soul of the Dragon, and we have seen nary a vibration of the Scarlet Speedster. A recently released clip from WB Animation and DC seems to give us a bit of an update as to what Mr. Allen's been up to since then. It turns out The Flash has been speeding across time to help a superhero team in Justice Society: World War II. Matt Bomer (Doom Patrol, The Boys in the Band) and Stana Katic (Castle, Absentia), who made their DC Universe Movies debuts as Lois Lane and Superman in the 2013 film Superman: Unbound, return to the popular animated film series in the lead roles of The Flash and Wonder Woman. Just ahead of the April 27th release date, Matt sits down and shares a few quick thoughts about The Fastest Man Alive and the upcoming movie with Bleeding Cool.
Bomer begins by explaining what separates the Flash from other superheroes.
"What I love about him in this iteration is his sense of humor and how it bolsters him through some very tough circumstances. How he uses it to break the ice with other characters to ingratiate himself to other people, with Iris, and his life in general."
Matt's turn in the red tights is impressive for the calm confidence in his performance when Barry has to take charge of a situation. What ideas did you bring to the recording booth?
"One of the things that make these DC animation jobs really fun is that it's ultimately this great collaboration that you find in the booth. At this point, you can't really help but bring a lifetime of iconic ideas about who Barry is to the booth, but ultimately you're finding the voice of Barry that best serves this particular story. This iteration of the character and I think that both Butch Lukic (Supervising Director)and Wes Gleason (Voice Director) were invaluable in helping us all get into the same movie and also find particular cadences and rhythms of the character."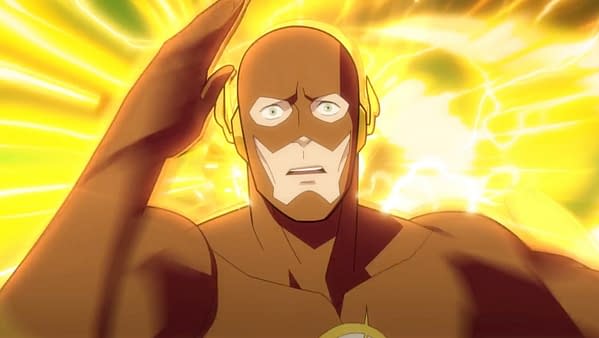 Barry Allen has been around since he kicked off the Silver Age back in 1956; he is an original member of the Justice League of America and is one of DC's biggest properties across all forms of media. Having a son that is obsessed with the Flash, the character's iconic status is not lost on Bomer; he wanted a chance at being part of the story.
"I was able to not only have my life come with experience but also see how a child comes to be fascinated by the character and what they love about him and his powers. So very intimidating, but ultimately you have to hold close to your heart everything you love about the character but also give over to the script and what the circumstances are and the version of the character that you are dealing with in that story."
In Justice Society World War II, the Flash is ultimately an interloper in this world he finds himself in, witnessing it all and trying to help. Something that the DC films always do so well, and they did not disappoint this time, are the exquisitely choreographed action sequences reflected against heartfelt emotional beats throughout the script.
"My expectations were exceeded by the strength of the relationships and the real emotional beats that I found myself very moved, both in reading it and watching it, by the characters in the film. Everybody had a great arc… everybody gets to display their powers. I've loved Hawkman my whole life, and I had never really seen him brought to life in this way. I think Omid (Abtahi) did such a great job with him, and it was so great to see him onscreen."
At the core of Justice Society, World War II are some very poignant relationship moments between all the characters. When we first see them at the beginning of the film, Barry is trying to be in a million different places, trying to please a lot of different people, and he really can't be present with Iris. Being the Flash, however, he can't slow down.
" She just wants him to be there with her. But because of the way his mind works and his responsibility and relationships to those responsibilities, he actually had a hard time doing it. It's only over the course of the film and witnessing the relationships in the Justice Society, I would think, particularly between Wonder Woman and Steve Trevor that he is able to- when they reunite, he is able to really drop in and be present and value that relationship, and aspects of a relationship that we can only really appreciate if you're in that moment with that person."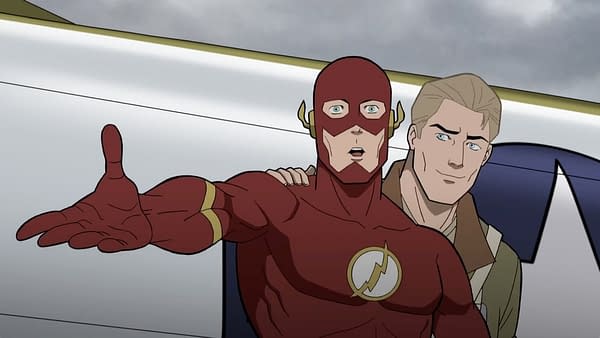 Justice Society World War II stars Stana Katic (Castle, Absentia) as Wonder Woman, Matt Bomer (Doom Patrol, The Boys in the Band) as Barry Allen/The Flash, Elysia Rotaru (Arrow) as Black Canary, Omid Abtahi (American Gods, The Mandalorian) as Hawkman, Chris Diamantopoulos (Silicon Valley, The Three Stooges) as Steve Trevor, Armen Taylor (JoJo's Bizarre Adventure: Golden Wind) as Jay Garrick/The Flash, Liam McIntyre (Spartacus, Justice League Dark: Apokolips War) as Aquaman, and Geoff Arend (Madam Secretary, Batman: Hush) as Charles Halstead/Advisor alongside director Jeff Wamester (Guardians of the Galaxy TV series), co-screenwriters Meghan Fitzmartin (Supernatural, DC Super Hero Girls) and Jeremy Adams (Supernatural, Batman: Soul Of The Dragon), and supervising producer Butch Lukic (Superman: Man of Tomorrow, Constantine: City of Demons).
Produced by Warner Bros. Animation and DC, the feature-length animated Justice Society: World War II will be distributed by Warner Bros. Home Entertainment on Digital starting April 27, 2021, and on 4K Ultra HD Blu-ray Combo Pack and Blu-ray on May 11, 2021.