Krypton Season 1, Episode 9 Recap: Hope
This article contains spoilers for Krypton season 1, episode 9, 'Hope'.
.
.
.
.
.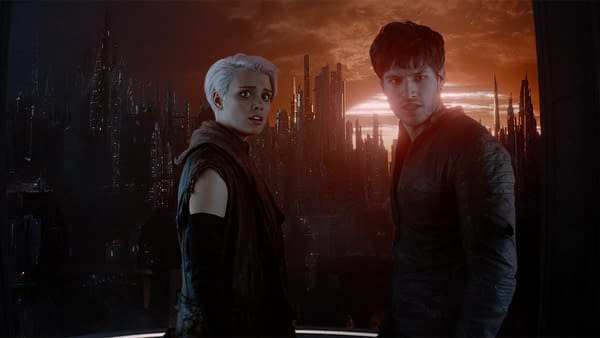 Last night we got the penultimate episode of Syfy's new series Krypton — the series that said, "Hey, you've got a nice Superman there… would be a shame if anything happened to it." What seemed to be a pretty straightforward story about Adam Strange (Shaun Sipos) going back in time to stop Brainiac (Blake Ritson) from destroying Krypton 200 years before Kal-El was born has been filled with so many twists and turns that I'm not sure who to be rooting for anymore.
As the series has progressed we've met Seg-El (Cameron Cuffe), Superman's grandfather, who has gone from being a rankless conman to what might be the last hope of the planet. And while they set up the first five episodes to be filled with Game of Thrones-like political intrigue and a love triangle between Seg, Lyta-Zod (Georgina Campbell), and Nyssa-Vex (Wallis Day), they dropped in Superman villains General Zod (Colin Salmon) and Doomsday and made stopping Brainiac from stealing Kandor City the thing that erases Superman from Earth history, putting Adam on the side of Brainiac and Seg on the side of Zod. It's complicated.
Last night's episode is the fallout from them attacking the Voice of Rao/Brianiac's scout, whose body was never found. Kandor is without leaders, the people are about to riot, and Seg and the resistance are trying to find the Voice after he used a little girl as a bomb. Seg also believes that Adam died in the blast, and he begins to question himself. (Adam is not dead, just off in a "strange place", as Sipos said on Twitter). Lyta tries to comfort him and it turns romantic.
Meanwhile, Daron-Vex (Elliot Cowan) is being tortured by Jax-Ur (Hannah Waddingham) for information that we find out later leads to a stash of clones for the main Houses. Daron would eventually escape, get a skimmer, and head out of the city — only to still have some kind of chip in his neck that Jax controls. She forces him to crash in the Outlands, and that's where we leave both of them.
Seg wakes up in bed alone and figures out that Lyta has teamed with her future son and they're heading to release Doomsday. He and Jayna-Zod (Ann Ogbomo) get there first, remove Doomsday with the help of the Cythonites, and then close the door. We can see Dru open the door by himself, revealing he's the son of Lyta and Seg (I called that one), making Superman his nephew. (Anyone for a "Zod's Your Uncle" t-shirt?) But since they moved Doomsday, its okay… except it's not, because the containment unit begins to malfunction and Seg wants to take it to the AI of Val-El (Ian McElhinney) but the Cythonites have a different plan and take Doomsday with the idea of letting him loose under Kandor.
Meanwhile, Jayna has been holding Dru and Lyta by gunpoint, but Dru challenges Jayna to honor combat and she accepts. They fight and it goes on a while, but Jayna gets the upper hand and is about to win until Lyta shoots her in the side — which is damn cold. Wounded, Jayna gets away and stumbles through the tunnels until she passes out, and it looks like she is saved by possibly her brother (just a guess).
Seg goes back to the fortress where Nyssa is, and he figures out that the Voice needs fuel and where he probably is. He also gets a pep talk from Val, who explains that the sigil for the House of El means hope. He rallies the Black Zero troops while Nyssa convinces what's left of the Sagitari to come help. They go into the generator that fuels Kandor's protective doom. Before going in, Seg gives Nyssa the House of El sigil key that Adam had given him, saying she is the only one he can trust.
Once inside, the Voice is draining the power from the generator and gets into the minds (or something) of the Sagitari and Black Zero, forcing them to fight each other. This leaves only Seg alive, who he then controls to head out over the ledge. But before he does, Nyssa stabs the Voice in the back of the head with the sigil key, which makes the Voice explode. Nyssa admits she didn't expect that to happen. But before then can celebrate, Kandor's shield drops and the real Brainiac starts to form in the middle of the room. Seg grabs the sigil key and Nyssa and gets the hell out of there. Brainiac finishes forming, looks out over the city, and says Krypton is his.
The Verdict
At this point, with the season finale next week, there really are no more resistance fighters, Lyta has betrayed Seg, and Adam is nowhere around. Doomsday is under the city in a failing containment unit, and Brainiac has arrived. We still don't know who the mysterious woman Adam found was, and Superman's cape has gotten really small. That's a lot to try and resolve in just one more hour. And what is the right solution? Save Kandor or let Brianiac have it so the Earth gets Superman?
What's Next
The series has not taken the expected path in any way, and it feels like things will not be wrapped up nice and neat next week, but rather in a very messy way to set up a second season (if they get it). The series has been a lot of fun so far.