Let's Talk About The X-Files Season 11, Episode 6, 'Kitten'
Fox did something… inspired, I guess, when they decided the current climate of politics and intrigue was perfect to bring back fan favorite series The X-Files last year for a six-episode miniseries season 10, and the general positive reception *cough* ratings *cough* meant that another was likely.
Season 11 has had some misfires, lets not kid ourselves, that first episode was NOT COOL MAN, but the other five episodes have been for the most part, enjoyable for this particular Xphile. Episode 4, 'The Lost Art of Forehead Sweat' was absolutely amazing, and goes right up there with any number of classic series stories.
Tonight's season 11, episode 6, 'Kitten', is a Walter Skinner-centric episode, as made apparent by this interview with Mitch Pileggi about it. There was also this image posted by the official X-Files Twitter account. Yes, normally we would have had a live tweet going tonight, but that didn't happen.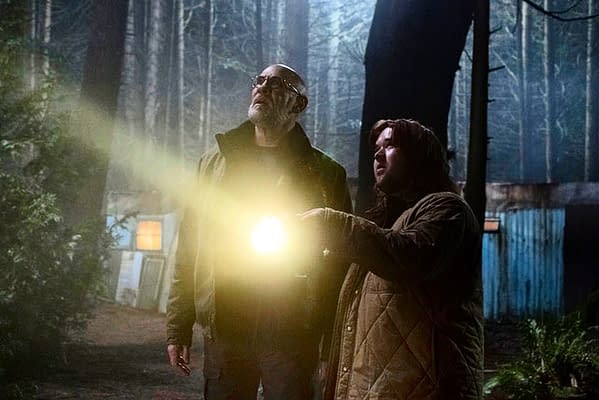 On to the episode, which was directed by Carol Banker and written by Gabe Rotter:
opening with a longstanding X-Files trope (military helicopter), and I knew KNEW
right away tall dude in Marines fatigues with glasses was LANCE Corporal Walter
Sergei Skinner in Viet Nam.
"The War Is Never Over"
Mulder and scully are called into the Director's office to talk about their
former boss, Assistant Director Skinner
Apparently, his dalliance with CSM is becoming a problem
Mulder and Scully go looking through Skinner's townhouse (a nice place, all
things considered)
An envelope addressed to Skinner, that Scully opens (shhh), contains an ear.
The note inside reads "the monster is here"
"Does that get your juices flowing, Mulder?" Scully asks.
Let it be known that from this episode, it's safe to assume mulder is bad at
parking. He's about 5-6 inches from the curb!
Mulder and Scully follow the note to Mudlick, and there is a dead body.
Sure looks like Skinner is huntin' folks out in the forest, with his pit o'
stakes
"This murder is sloppy. He'd never get himself caught on camera."
Skinner is on the hunt for…something, obviously
Haley Joel Osment looks weird with a wig on
Apparently Skinner is called "baby killer" by one of his former Marine buddies
"There were monsters in that jungle. Because of his exposer to experimental gas-"
Skinner says the the monsters weren't real, that they were a result of the gas the Marines were exposed to
Scully very much feels like it's her and Mulder's responsibility to go after Skinner, "after everything he's done for us."
Skinner gets pushed into a pit with spikes, takes a gut shot from one of the spears
Of COURSE there's no cell reception in this pit, Skinner!
Mention of government hiding things in chemtrails, take a drink!
Not sure if 'monster' or just a tribal shaman who got lost on the FOX backlot
Leave it to Mulder to go find his boss at the bottom of a pit
….and to Scully to save their dumbasses by incapacitating the bad guy, who SHOCKINGLY disapeared
Also, did Davey learn his forest traps from the Ewoks? Kinda looks like it
Skinner and Davey have a wrestling match under a precariously hanging spikey thing, which ultimately falls on Davey because Skinner rolled out of the way
Skinner does his best to say thank you to the pair of agents, in his way, for saving his bacon as often as they have (even though by now he's kind of ahead of them in the count, whataboss, huh?)
Skinner says he'd side with Mulder and Scully every single time, given the choice between the pair and the 'shadowy' bosses
"Skinner, we're with you," Mulder tells Walter as he leaves the cabin
All in all, not a bad episode, definitely a good story filler for our favorite FBI Assistant Director. We're looking forward to episode 7 when the series returns in 3 weeks.