Lovecraft Enthusiasts Return To San Pedro For Annual Festival
Michele Brittany writes for Bleeding Cool:
An eerie, other-worldly fog crept across the bay where the waters met a sleepy coastal town with a mix of modern and early 20th century architectural buildings of varying heights. Bulbous lights strung crisscrossed above the main street provided miniature beacons of illuminations, or maybe minute signs of warning to about 400 unsuspecting travelers from distant locales. The gentle townsfolk smiled sweetly, but did they hold steady some dark, sinister secret? Softly, slowly like the approaching fog, a single unseen frog voiced a trepidatious croak in the night…. Maybe the fog wasn't really a guest and as far as I know, the citizens of San Pedro, California were happy to play host to the annual H.P. Lovecraft Film Festival & Cthulhucon held Friday, September 26 through Sunday, September 28. Events started with a dinner at The Whale & Ale Pub followed by the opening welcome at the exquisite and supposedly haunted Warner Grand Theatre where most of the events were held.
I arrived mid afternoon to a sunny and warm San Pedro on the heels of attending the Long Beach Comic Con, and after checking in, I had a few minutes to take in the local scenery. As a Kickstarter supporter, I wanted to take a look at the mural painted by Skinner in celebration of the festival (and hitting a stretch goal), so after getting three different sets of directions from three helpful volunteers, I found the colorful Cthulhu painting in a back alley corner. After a Kodak moment, it was back to the theatre. Festival organizer, Aaron Vanek, started off the afternoon with general festivals announcements and handing out door prizes, before handing over the microphone to horror art photographer, Joshua Hoffine. Based on Lovecraft's short story Pickman's Model, the photographer presented Pickman's Masterpiece, a series of five photographs capturing the moment that Pickman reveals his masterpiece to the narrator. Hoffine said that he had to fight to not do a reveal of the masterpiece to the audience because he was "keeping to the spirit of Lovecraft by not revealing what is indescribable."
Hoffine then talked about two other projects. Flight from Innsmouth, which will be a series of ten photographs, is a work in progress that he is tentatively planning to do a Kickstarter to secure funding. And, he screened his short film, Black Lullaby, about a little girl who follows a sound up into the attic and discovers…. It was a good segue into the first of two blocks of short films. Inspired by the spirit of Lovecraft's stories, the first block featured nine short films from around the world. Jon Yeo's Leviathan Ages started off the group with the tale of a fallen emperor that was visually stunning and mystical in nature. James Latter's references to The Shadow Over Innsmouth were easily made in Strange Aeons, while Stasis directed by Jason Hite tells the story of a woman's transformation when she is awaken from her cryostasis chamber. Filip Biedron's The 1000 Colors is a psychological thriller of an artist looking for inspiration and finds it. The undead of a northern village feature in Michael Entler's Miasma, while Aitor Uribarri's Horizonte follows a mother and daughter's struggle to survive in a post-apocalyptic world south of the border. One of my favorites, Adam-Gabriel Belley-Cote's Invectum, captures the nightmare of a man who wakes up in a tub, surrounded by surgical instruments. He feels his sides thinking perhaps one of his organs has been stolen, but the truth of what happened to him is something far worse. Philip Tippett's MADGOD: Part I conveys a world of monsters via stop motion. Grave Shivers directed by Brent Sims, is a collection of three short horror stories incorporating devious twists in the plots. It was my favorite and earned the Audience Choice Award this year, and it concluded the first block of films.
After a dinner break, Dark Adventure Radio Theater presented a live performance of the audio drama The Shadow Over Innsmouth. The ensemble group was interesting to watch, but honestly, after a day at the Long Beach Comic Con, and with my dinner digesting as I sat in the darkened theatre, I found my eyes getting heavy. The unlit "CROAK" sign waited like a sentinel on the stage, so I fought my sleepiness because I wanted to last long enough to partake in the portion of the program where the audience would be expected to "croak" when directed. I'm glad I stayed: a theatre full of croaking people was actually quite humorous! Another short break and it felt good to get up and walk around. I looked at the wares of the various vendors located in the lobby and in the basement. Board games, fez hats, t-shirts, books, art work, jewelry, and yes, even Cthulhu pickles were just some of the Lovecraft inspired items for sale. While attendees headed back into the theatre for the second block of short films, I decided to head home while I could still keep my eyes open.
Award winners were announced as the festival continued into the wee hours of Saturday evening. In addition to Brent Sims' film earning the Audience Choice Award, Sebastien Chantal's I Am Not Samuel Krohm won Judges' Choice and Most Lovecraftian Awards, and Brian Lillie's Family Tree won Best Screenplay. The festivities concluded with a brunch on Sunday. This festival is the sister to Portland's festival, and next year the two events are switching months. San Pedro will host their 6th annual festival May 8-10, 2015, while Portland will celebrate their 20th anniversary October 2-4, 2015. San Pedro's theme is The Case of Charles Dexter Ward and will feature Vincent Price's The Haunted Palace (1963, Roger Corman) and the director's cut of The Resurrected (1992, Dan O'Bannon). I'm looking forward to it!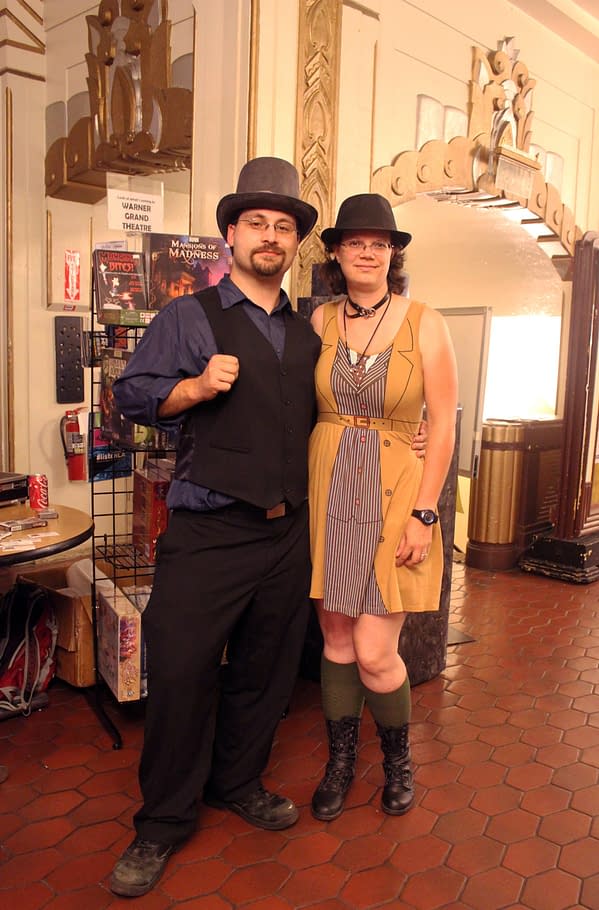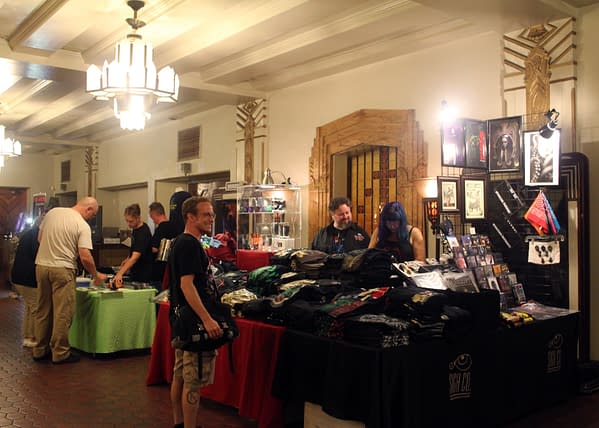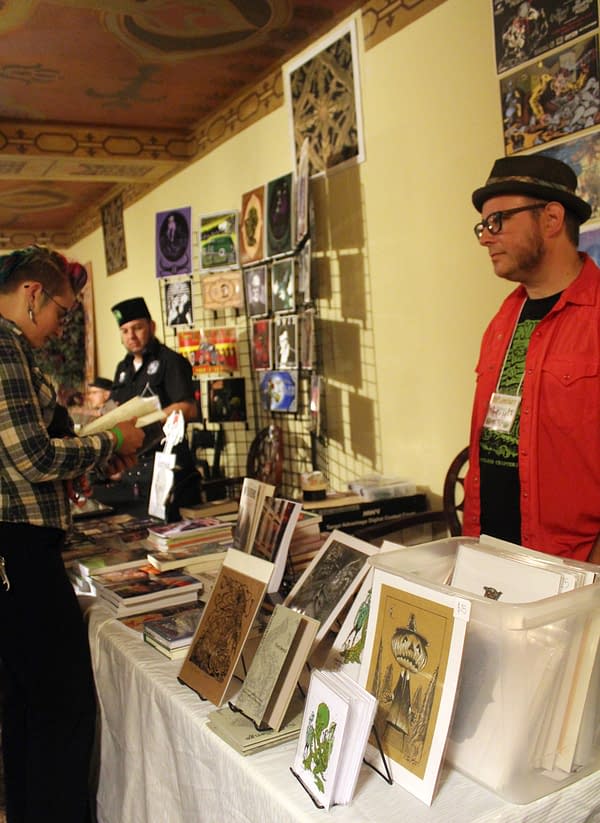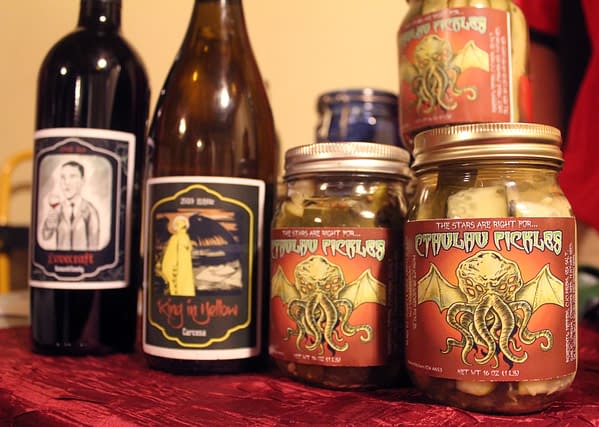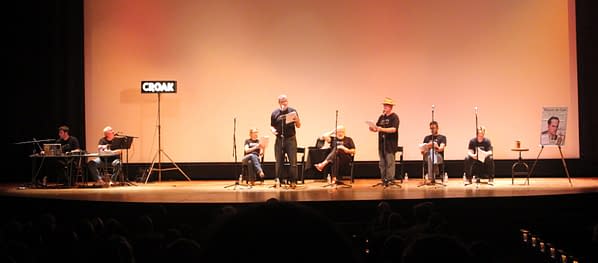 All photographs are used by permission of Michele Brittany.
Michele Brittany is an independent popular culture scholar and semi-professional photographer and editor of the forthcoming title James Bond and Popular Culture: Essays on the Influence of the Fictional Superspy (McFarland & Company). She regularly posts reviews and analysis on the spy/espionage genre on her blog, Spyfi & Superspies and can be followed at Twitter @mcbrittany2014.