A Smuggler's Eye View of the Millennium Falcon Disneyland Star Wars: Galaxy's Edge Ride
There are certainly a lot of emotions going around in the journalism community about Disney's new expansion, Star Wars: Galaxy's Edge. Especially when a select number of reporters were invited to tour the Black Spire Outpost on Batuu [at Disneyland].
Our writing compatriot Germain Lussier of i09 wrote perhaps the best pieces of the lot; pure childlike enthusiasm and wonder paired with the delight of an adult who knows the deal. Perhaps our favorite thing from his write-up of his experience is this completely relatable bit about one of the key attractions of the new land: You get to actually stand next to the Millennium Falcon, for crying out loud!

One of the centerpieces of Galaxy's Edge is a full size, 1:1 scale Millennium Falcon. It's over 100 feet long, probably 25 feet high and is covered with all the little tubes and pipes you see in the films. Everything. There it is. Right in front of you. The fastest hunk of junk in the galaxy is real and words simply can't do justice to describe what it's like to stand beneath it, especially for a massive Star Wars fan like myself. It's as if your wildest fantasies have finally been brought to life.

"Magnificent" isn't strong enough. "Awe-inspiring" doesn't come close. It's just…perfect.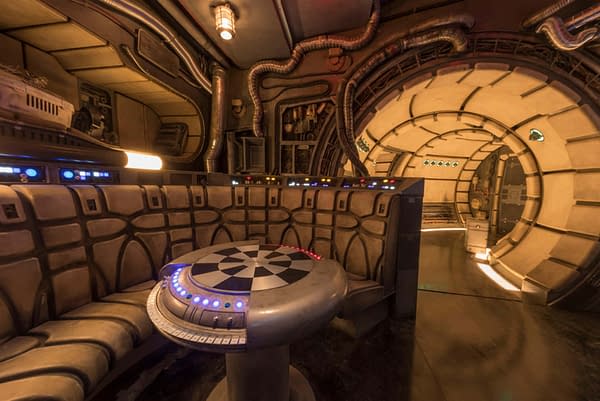 It's then that Lussier starts to describe the ride attached to the Falcon, with still-more unbridled joy that sort of leaps off the screen. The ride will be called "Smugglers Run", and will consist of 6 persons per adventure. You'll apparently work together from various stations inside the Falcon's cockpit; 2 pilots, 2 gunners and 2 engineers. Pilots fly, gunners shoot, and engineers repair during the ride. No further details were revealed however, other than mention of concept art of a " a massive creature much like the one the Falcon dealt with in Solo: A Star Wars Story", which sounds SUPER promising. While we still don't have a definitive opening date for either the Disneyland or Walt Disney World Galaxy's Edge additions, we do know that Anaheim is looking at a "summer 2019" date, with Florida opening in the "fall of 2019". We will of COURSE let you know as soon as we hear about what day.
Did you see the food and BLUE MILK yet? How about the merch?