New Frozen, Toy Story, And Zootopia Sequels In Development
During the latest Disney investory call, Bob Iger snuck in an announcement that there are sequels to Frozen, Toy Story, and Zootopia in development.
---
It's not often that we get any sort of interesting announcements during these Disney investor calls, but every now and then, they like to throw us some curveballs, and today was one of the days when they threw out a curveball. Bob Iger was explaining how they would be cost-cutting at the company, including how they will be laying off 7000 people, but he also threw out some movie announcements. Disney wants to lean into the things that have made them money in the past, which means established properties. So Iger announced that there are sequels in development for Frozen, Toy Story, and Zootopia. However, Iger didn't share any other details about these three projects, so all we have is that one statement from Iger to go on.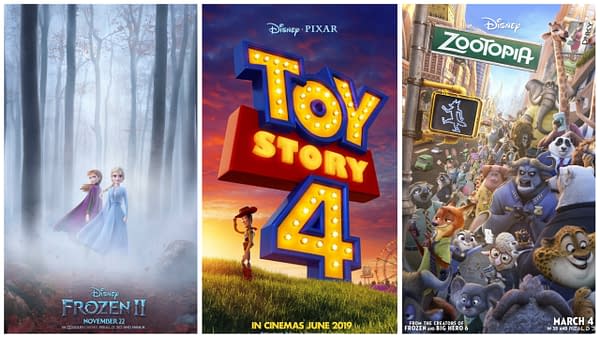 In Frozen, it isn't surprising that they want to make a third film in this series, even if the behind-the-scenes for the second film was a mess. The first film was a massive success that made over $1.2 billion at the worldwide box office in 2013. Frozen II was just as big as the first film, if not as viral, because they couldn't quite grab a Let It Go again, but it did make $1.4 billion in 2019. In terms of Toy Story, we haven't seen anything from that franchise since 2019 as well, if you don't count Lightyear. The fourth film also made over a billion at the box office, leaning into those insane numbers of 2019, so it's not surprising that Disney and Pixar want to go back there again. Finally, Zootopia has already jumped to streaming, but the numbers on the series released late last year must have been promising for Disney to jump back to film again. As previously said, we have no details on any of these projects at the moment, but we'll be sure to share once we hear more details.