[#CinemaCon 2018] Ocean's 8 Lets You 'Join The Dream Scheme' with New Standee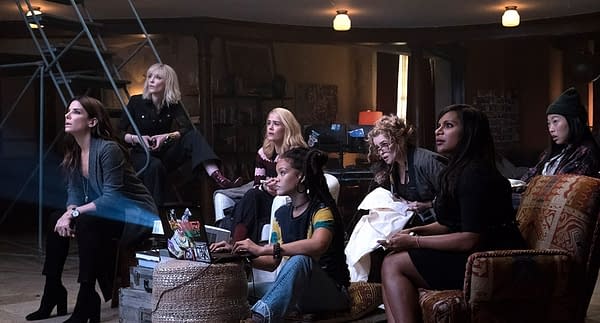 With the National Association of Theatre Owners' (NATO) CinemaCon getting underway at the Caesars Palace in Las Vegas, we're getting a lot of very cool new advertising and promotional materials for a huge slate of upcoming films. Case in point: this promotional standee for photots for Ocean's 8 – the comedy-action caper starring Sandra Bullock, Cate Blanchett and Rihanna – that lets you join their "dream scheme":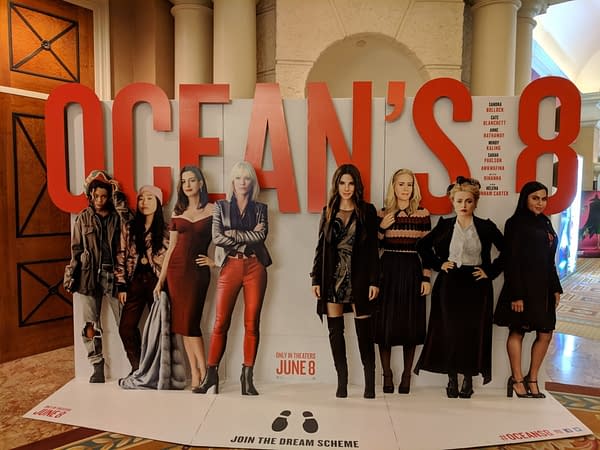 CinemaCon runs from April 23-26; and includes debut presentations for studios' upcoming slates; must-see premiere feature screenings; and appearances from a wide range of actors, directors and writers. Those in attendance represent various aspects of the theater-going experience, from theater owners to film media.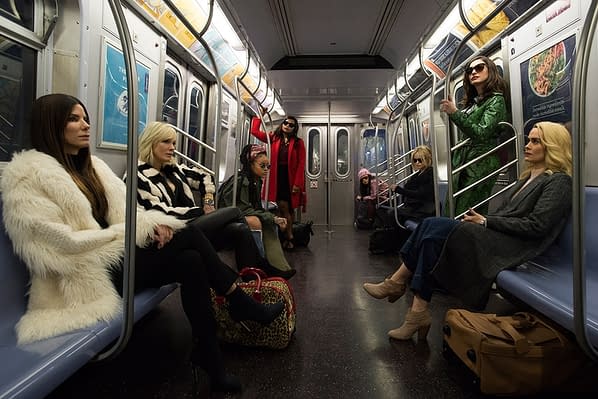 Directed by Gary Ross (Pleasantville, The Hunger Games) and produced by Steven Soderbergh and Susan Ekins for a June 8, 2018, here's a look at the official main trailer for Ocean's 8:
Debbie Ocean (Sandra Bullock) attempts to pull off the heist of the century at New York City's star-studded annual Met Gala. Her first step is to assemble the perfect crew: Amita (Mindy Kaling), Tammy (Sarah Paulson), Lou (Cate Blanchett), Constance (Awkwafina), Eight Ball (Rihanna), and Rose (Helena Bonham Carter).
Ocean's 8 also stars Anne Hathaway, Dakota Fanning, Richard Armitage and James Corden; with Matt Damon and Carl Reiner reprising their Ocean's Trilogy roles. Anna Wintour, Alexander Wang, Kim Kardashian, Maria Sharapova, Derek Blasberg, Lauren Santo Domingo, Kendall Jenner, Katie Holmes, Olivia Munn, Adriana Lima, Hailey Baldwin, Serena Williams, Kylie Jenner, Zayn Malik and Zac Posen also make cameo appearances in the film. In December 2017, Bullock spoke with Entertainment Weekly what the dynamic was like on the set duirng filming
"It was so great. I would say, isn't that funny how with the guys, I don't remember ever hearing anything about potential discord. But you so get it with women. If there's ever more than two women in the film there's rumblings of, "oh, they're having cat fights." There was nothing, because I think because of the unique situation of this and because we all are trying to achieve the same thing, we bonded pretty quickly out of necessity and just because we like each other. We all were able to fit in this trailer while we were getting fluffed and folded, and share information. I don't know how to do this, where did you do this? Oh my God, my son needs a uniform. Oh my God, I have this great website. What do you do in this work situation? How are you internet managing? For the first time in my life I felt there was a sharing of all this information. We all looked at each other and went, why didn't we know these things before? I realized as women we have been isolated for a while. I don't even want to touch on that other subject, but women are now taking care of each other. We all were like, okay, let's just take care of each other for these six months and relish this opportunity we're being given. But we don't want it to be just for women. This is not a man-hating. We love the men. There's men in this movie. We love them. But this one heist needs women."