Potts Shots: Gen Z Vs. "The Addams Family (1991)"
Madeline Potts is a certified member of Generation Z and in "Potts Shots" she'll be watching older movies she hasn't seen before. This week? The Addams Family (1991)
We all know the iconic snapping, Wednesday's braids, and the crazy, kooky, family that lives down the street. But… I, being a Halloweentown stan for life had never watched The Addams Family movie. So in the spirit of the new animated feature hitting theatres this month and Halloween just around the corner, I sat down, paid $2.99 on Amazon, and let myself meet the Addams family for the first time.
The first thing I noticed about The Addams Family was that much like Halloweentown, the Addams family leans into its weirdness. It's unapologetically spooky, from the setting to the characters, there was never one moment that I didn't believe that this was all plausible within the Addams estate.
I like that the characters in The Addams Family aren't some sort of mythical creature. They aren't a coven of vampires or troupe of spirits, they don't have powers or cast spells. They're just a kooky family, with strange and, somewhat creepy habits. They have enchanted bookcases, a disembodied hand as a servant, trapped doors, and spooky relics throughout the house. The Addams lean into their creepiness in a way that feels authentic and never forced because of course, Wednesday would place a game of "Do you believe in God?" with her brother Pugsly, why wouldn't you?
What I loved even more about the family is that they truly loved each other. Unlike, Halloweentown where Marnie is constantly fighting with her mother, the Addams truly enjoyed each other. From the incredibly feminist relationship between Morticia Addams and her doting husband Gomez to the yearly seance for long-lost Uncle Fester. Loving your wife and brother is only for goths, right? Throughout the movie, we see the family share dinners with each other, visit the family graveyard, and play games on Halloween night.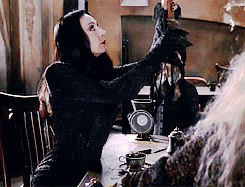 Above all, the Addams stuck true to who they were even when they weren't at home. At the children's school, Morticia is confronted by Wednesday's teacher and told that she is concerned for Wednesday after she brought in a portrait of her aunt Calpernia for the "hero wall." Morticia replies with:
"Wednesday's great Aunt Calpernia, she was burned as a witch in 1706, they say she danced naked in the town square and enslaved a minister. Don't worry, we've told Wednesday, college first."
They are funny, witty, and not afraid to tell the world that they are Addamses!
Growing up I never understood my friend's diehard love for Wednesday Addams, I get it now. From her deadpan sarcasm to her antics with her brother, Wednesday is the goth girl I always wished I could be. She carries a knife, wears all black, and doesn't try to conform to her peers. But most of all, just like her family, she doesn't try to change herself to please other people.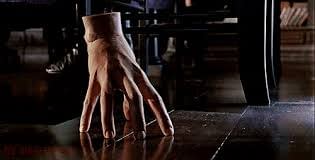 Growing up watching Halloweentown (and it's various sequels) there always seemed to be a theme that going against the norm was something to be ashamed of; Luke, a goblin, wanting Facetune, Marnie's mum being ashamed of their abilities, etc. The Addamses are unequivocally themselves no matter what. Gomez isn't afraid to have a sword fight with his accountant. Morticia doesn't apologize for Wednesday's choice of hero, no matter how beyond the norm it is. Thing (a disembodied hand) uses his gifts to deliver mail in the real world, without caring what his terrified co-workers think.
As for the plot of The Addams Family, I thought it was masterfully laid out. From the introduction to Uncle Fester and their banker to the ending where we find that they are, in fact, the same person!
So how does The Addams Family rank as far as Halloween movies go for me? I'd put it below Halloweentown and above Hocus Pocus (that's huge you guys). Let me know in the comments what Addams Family episode or movie I should watch next.