Ready Player One: The High Five Announce Hot Topic PopUp Experience, New Footage
Ready Player One really waited 'til the last minute to start to drum up more public… something… ahead of the Warner Bros. film being released next month.
Aside from some pretty good trailers, the sheer lack of story-appropriate viral marketing is largely disappointing. Why no release of Anorak's Invitation? Why no true "join the Oology department at IoI"? There is so much that could have been done way in advance, and it feels like someone in the ad department maybe finally read the book and went, "oh, wow, we should maybe start doing something."
That said, what they ARE doing is okay for the most part. Two days ago, it was the release of the RP1 line of merchandise from Hot Topic (even though most of it misses the mark, and some of the items have notable differences, like the keys being out of order on a freaking shirt).
Just now, the official Twitter account posted this video featuring the High Five informing fans about the Hot Topic merch that's available now, as well as a popup OASIS experience at 5 select Hot Topic locations:
https://twitter.com/readyplayerone/status/966387115184480256
Houston, Dallas, Atlanta, Miami, and Phoenix are singled out as cities where a new OASIS Hot Topic popup experience will be happening, but no further information is currently available as to WHAT the experience will be.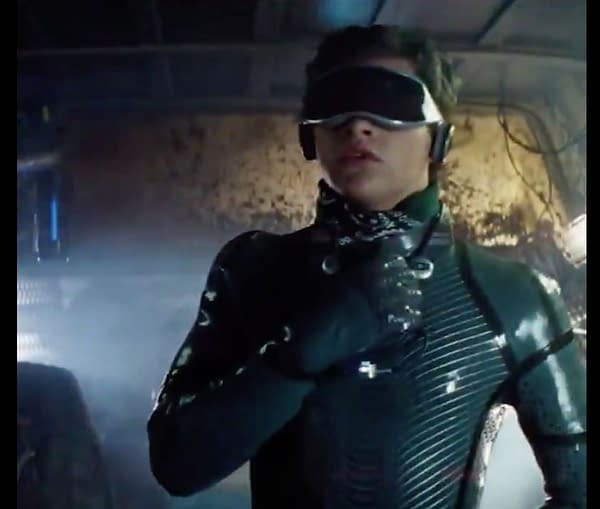 The new footage, however, is the most interesting part — it shows an OASIS avatar surfing on a big wave, Wade Watts (Tye Sheridan) putting on his haptic suit and morphing into his avatar Parzival, and a few flashes of action we haven't seen yet. This new trailer has been showing on NBCSports during the Olympics; I first saw it last night.
Seeing the High Five together is interesting: Olivia Cooke as Art3mis, Sheridan as Parzival, Win Morisaki as Daito, Philip Zhao as Shoto, and Lena Waithe as Aech.
Ready Player One is set to hit theaters on March 29th.