Hiya, folks! Your pal Jude Terror here, filling in for the regular Bleeding Cool film crew who are unavailable right now and asked us to fill in to cover this breaking news, a decision which we're sure they'll regret in the morning.
So here's the story.
Ezra Miller, the star of Warner Bros' beleaguered and potentially nonexistent Flash movie, has a plan to save the film that's so out there, it just might work. Miller, according to a new report from THR, wants a darker take on the character than Warner Bros, who want a fun one more similar to Aquaman or Shazam, and to convince Warner Bros he's right, Miller has decided to write the script himself. But not by himself. Miller has teamed up with renowned comic book writer and second most powerful wizard in comics, Grant Morrison.
It's unknown how the pair hooked up, but if we had to guess, we'd imagine that Morrison's floating disembodied head appeared to Miller one night while Miller was conducting a seance in an attempt to communicate with Zack Snyder's Vision, the original guiding force of the DCEU that was banished to a hellish dimension when Warner Bros hired alleged fake feminist Joss Whedon to replace all of original Justice League director Zack Snyder's badass Superman scenes with scenes where Cyborg says booyah. Only Snyder's Vision could possibly inspire a script as dark as needed for the film… or so Miller probably thought before the glowing blue astral projection of Morrison's head appeared in his living room and revealed the unholy secrets of the universe.
Well, that's how we imagine it happened, anyway. In any case, according to the report, which paints a picture probably more dramatic than anything the superhero flick could hope to accomplish, Miller's contract only locks him in for the film until May, so if something doesn't get going soon, he could leave. He might also leave if Warner Bros doesn't like whatever he and Morrison come up with, though they would reject the script at their peril, lest Morrison unleash dark magicks upon the studio.
*the floating disembodied head of Grant Morrison appears in the Bleeding Cool offices, interrupting this news article*
JUDE TERROR! YOU DARE MOCK GRANT MORRISON IN YOUR CLICKBAIT NEWS ARTICLE?!
Uh oh, folks! Gotta run!
*Jude Terror dodges a mind-blast projected from the third eye of the floating disembodied head of Grant Morrison*
We'll keep you posted on this story, which seems to be developing at a rapid pace.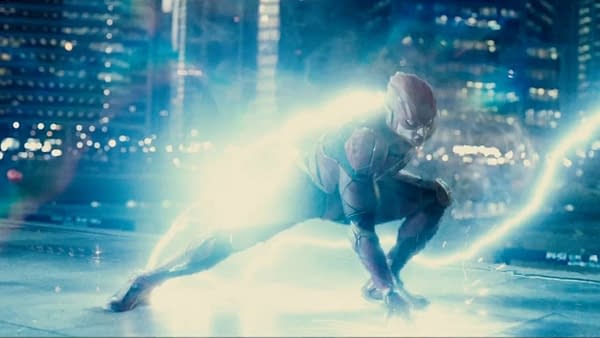 Enjoyed this article? Share it!