How Rian Johnson Hid a Classic Star Wars Reference into The Last Jedi
There is a tradition in Star Wars movies for someone to say the words "I have a bad feeling about this."
However, when fans watched Star Wars: The Last Jedi they noticed that no one said the words. Fans asked writer and director Rian Johnson was asked about it on social media. In an interview with The Huffington Post Johnson confirms that the the line is in the movie it's just a little harder to spot.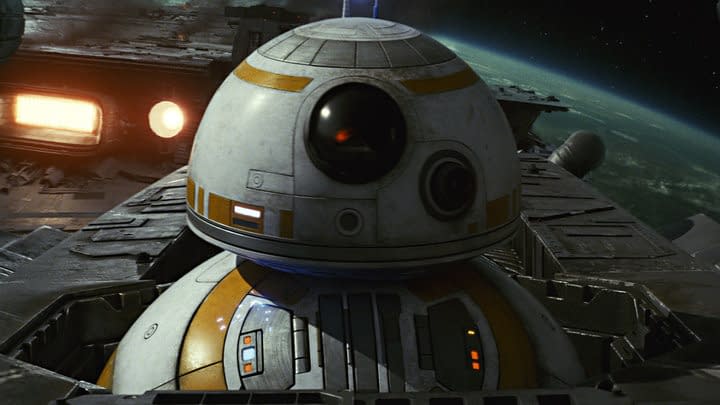 Warning for very minor spoilers for The Last Jedi.
As Poe Dameron is approaching the First Order fleet in his x-wing and BB-8 makes a series of beeps. Poe replies with "come on now buddy. Only happy beeps." It turns out that was the line.
"Yes!" he said with a laugh. "Good catch!" Johnson told us he thought it would be cool to sneak in the iconic phrase. "It seemed like a fun character to deliver that line," he said. "I think originally I had Poe respond, 'Oh, I got a good feeling about it. Keep your chin up.' And then I made it a little less explicit just to make it more fun."
Some people in the Star Wars universe can understand droids but not everyone and we, as the people watching, are some of those people. That means we didn't understand BB-8 we also didn't understand a series of beeps that R2-D2 says to Luke later in the movie.
Though Johnson happily corroborated that Easter egg, he was more vague about a line that comes from R2-D2 later in the film. At one point, Luke tells R2 to "watch your language." Asking about what R2 said there proved a little too much for Johnson. The director said the words were "not fit for print!"
Turns out those little beeps and boops could be hiding some very bad words. R2 would swear after the crap he's seen over the years.
Summary: Rey develops her newly discovered abilities with the guidance of Luke Skywalker, who is unsettled by the strength of her powers. Meanwhile, the Resistance prepares to do battle with the First Order.
Star Wars: The Last Jedi, directed by Rian Johnson, stars Daisy Ridley, John Boyega, Mark Hamill, Oscar Isaac, Carrie Fisher, and Adam Driver. It's out now.