Posted in: Movies | Tagged: crime, horror, Huston Huddleston, law, science fiction
---
Hollywood Science Fiction Museum CEO Huston Huddleston Indicted on Child Pornography Charges
Since the beginning of the year CEO and Founder of the Hollywood Science Fiction Museum, Floyd "Huston" Huddleston, has been almost entirely silent on social media, mystifying the Science Fiction and Horror fandom community. Well, now the fans have their answer.
It turns out that Huddleston has been incarcerated at the Pitchess Detention Center in Castaic, CA since April 24th facing a number of charges related to child pornography. He is being held pending a $750,000 bond ahead of a June 12th, 2018 trial date. Huddleston has pleaded not guilty to all charges.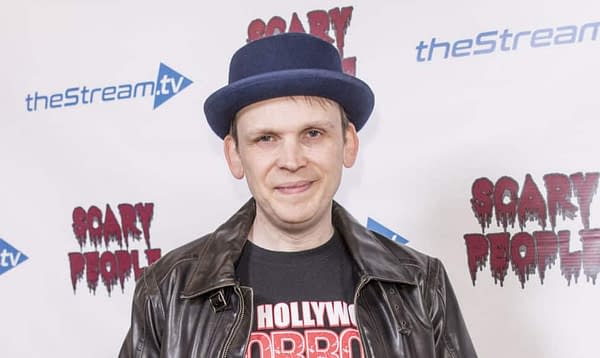 Huddleston has been charged with violating the following statutes of the California Penal Code:
288.3(A) – Contacting a Minor with Intent to Commit a Felony
311.4(C) – Makes it a crime to hire, employ, use, persuade, or coerce a minor to participate in the production of child porn
311.11(A) – Makes it a crime to possess or control any pornography produced using a person under 18
Here is a screenshot of his charges from the Los Angeles Court:
[Editor's note: The pics of a painting of Spawn in some of the below screencaps and Facebook posts are a function of the LA Courthouse website showing pics of random pieces of artwork on exhibit in various LA Courthouse facilities at the bottom of their web pages. The painting has nothing to do with the content of this post.]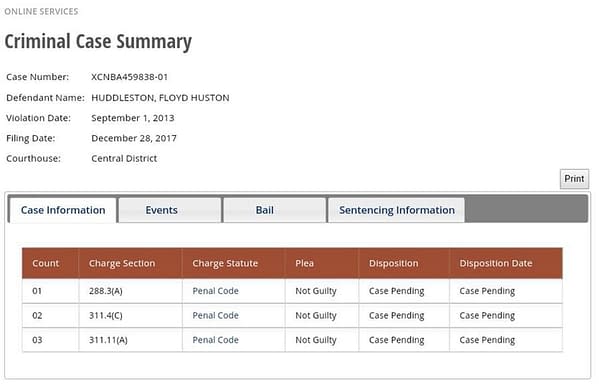 Here is a screenshot of his current incarceration status and bail amount:
Huston has been a regular exhibitor at comic conventions across the country and especially in Southern California, where their reproduction of the Star Trek: The Next Generation bridge was used as a fundraiser for the Museum. The bridge had originally been restored through a Kickstarter which had raised nearly $70,000. More recently he had acquired a set of life-sized wax statues of four of the Star Trek original series cast members and held another Kickstarter which raised $16,000 to pay for their restoration. The statues premiered at this year's WonderCon in Anaheim.
While the Hollywood Science Fiction Museum has been traveling around for a few years, the new Hollywood Horror Museum has been planning to open a physical location in the Los Angeles area in early 2019 to showcase various art and original props from classic films.
Some longtime volunteers have come forward to distance themselves from Huddleston and resign their positions:
On May 24th, a Facebook User posted that the first two charges had been dropped by the prosecution, however the third charge (311.11(A) – related to the possession of child pornography) stands and the judge refused Huddeston's legal team's request for a reduction in bail. We have not yet been able to confirm this with the court clerk and the online case record still shows all three charges as open.
https://www.facebook.com/starfleetmom/posts/10156452519599747
Today it was also noticed that the management team and Board of Director's pages on both the Horror and Science Fiction Museum webpages have been scrubbed empty. Now the former shows an empty page, and the latter's Board Member's page has been removed from the navigation bar.
Bleeding Cool has reached out to various members of the organization's prior board of directors to request comment on Huddleston's current involvement and about the purported en-masse board resignations but have not yet received a response. We will update this piece as more information becomes available. If anyone has any further background information on the case, the allegations, or the disposition of the organizations (read: who is in charge), please reach out to us via the form below.
---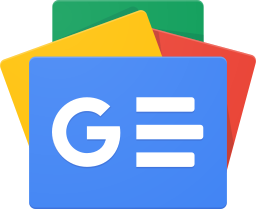 Stay up-to-date and support the site by following Bleeding Cool on Google News today!