Rian Johnson And Kathleen Kennedy Are Still Being Coy On Who Exactly Is The Last Jedi In New Star Wars In a new interview in the June issue of Vanity Fair, Lucasfilm President Kathleen Kennedy and Director Rian Johnson continued to dance around the topic of The Last Jedi and what that title may mean to the film. Kennedy herself points out that the title is an intentional one:
"That's actually what's interesting about the title, and very intentionally ambiguous."
And Johnson has quite a bit to say about it:
"That was the very first thing, when I had not even written the script. When I was coming up with the story, I had that title. So I've had that title in my head now for years. I was so terrified that someone would guess it—it seemed like an obvious title. Every time a fake title would leak, I would hold my breath and click on the link and be like, "Oh no, did they get it?" But luckily, we were able to put it out clean."
Then when pressed about whether it refers to Luke or Rey:
"I never thought that was going to be the question. I guess partially because the answer—and this is going to sound like I'm being coy, but I swear I'm not—is, you do have to see the movie. It's not as simple as saying, "It's this person—ha-ha!" It is a little more complicated than that. I guess I can say this, that when—no, I'm not going to say anything."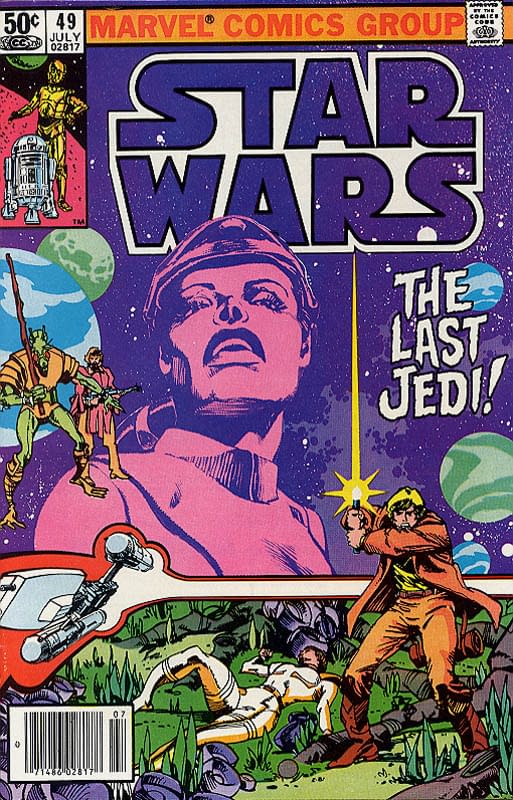 Yeah sure, they never thought we would discuss it on end until December. That was the first thing that crossed my min, and the first thing myself and my friends discussed when the title was announced. Even Mark Hamill has gotten in on the fun. It all goes back to that Marvel Star Wars #49 cover…and Johnson says he has had that title in mind for years now. Honestly though, I think it is just referring to Luke, I think when Rey's training is done she will become…more. There is a reason her lightsaber changes color on that poster up there. At least, that is what I think.
First seen on Heroic Hollywood