Scott Pilgrim: Cast Reunited for 10th Anniversary Script Read
The cast of Scott Pilgrim vs. the World reunited remotely in May for a script read-through of the Edgar Wright classic based on the Bryan Lee O'Malley comics for charity, according to Entertainment Weekly. The participants for the reading were Michael Cera (Scott Pilgrim), Mary Elizabeth Winstead (Ramona Flowers), Ellen Wong (Knives Chau), Mark Webber (Stephen Stills), Alison Pill (Kim Pine), Satya Bhabha (Matthew Patel), Chris Evans (Lucas Lee), Anna Kendrick (Stacey Pilgrim), Aubrey Plaza (Julie Powers), Mae Whitman (Roxy Richter), Brandon Routh (Todd Ingram), and Jason Schwartzman (Gideon Graves). The reading was to benefit Water for People, a global nonprofit that helps people bring clean water and sanitation solutions to their communities for generations to come. They joined the Mosaic Challenge to benefit the Leadership Council COVID-19 Fund.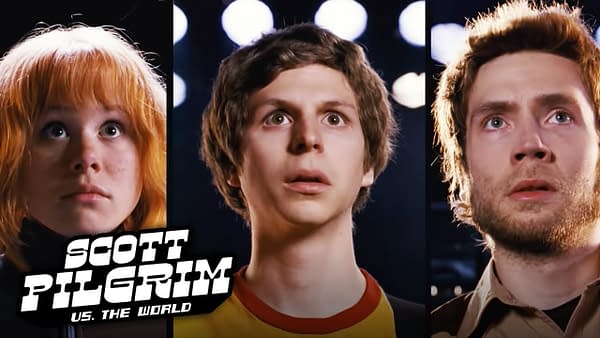 Joining the cast was Wright, who directed Scott Pilgrim vs. The World, his co-writer Michael Bacall, and O'Malley. EW will host the reading later this summer. Dolby Cinema plans to mark the film's 10th anniversary with the film's rerelease to theaters. The story focuses on Scott (Cera), who leads his own band called Sex Bob-omb. He meets Ramona (Winstead) at a party, who he believes is the girl of his dreams. As they hit it off, Scott is challenged by The League of Evil Exes formed by Gideon (Schwartzman) to do battle for Ramona's heart. Zany special effects, cheesy video game bloops and bleeps, epic rock, and martial arts fights ensue to show Wright and O'Malley's love for pop culture. Despite its status as a cult classic, the film underperformed at the box office at $47.7 million globally.
As two of the four actors who played live-action superheroes for DC and Marvel, it's something Winstead and Evans attest to the Scott Pilgrim's cultural relevance. "There's something about Scott Pilgrim that's not like anything else, and a lot of people are looking for that," Winstead, who played Huntress in 2020's Birds of Prey, said. "They feel they're not like anybody else or they feel their tastes don't really line up with what is being made right now. You see that movie, and you think, Oh God, this speaks to me; this is what I've been looking for!" "The Marvel fan base is rabid, but the Scott Pilgrim fandom is just as dedicated and loyal as any fandom I've ever seen," Evans, who played Captain America in the Marvel Cinematic Universe and The Human Torch in 2005's Fantastic Four, said.